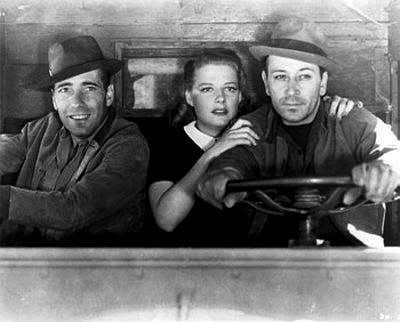 Three days were needed to load the truck. It was July of 1999. My destination was Portland. It was during a hotter than usual New New York summer. That means heat wave. The boxes of films were in the stifling attic of an 1880 building at the Snug Harbor Cultural Center on Staten Island. Each box had to be carried own three flights of stairs. There were over 200 of them, with an average weight of forty pounds. It was the equivalent of walking up 600 flights of stairs, picking up a 40 pound box, and carrying it back down to the bottom. The temperature was over 90 degrees at ground level but it seemed positively cool in comparison to the oven like third floor. I stopped after every three trips to gulp down warm water. Sweat rolled off me and splashed in droplets on the bare uncarpeted floor. On the night of the third day I slept on the floor of the empty room.
The films represented my life's work. They were mostly 16mm, but there were also a very small amount of 8mm and Super 8, a little more of 9.5mm, and taking up much more room per minute, 35mm. Among the films were shorts by Lumiere, Edison, J. Stuart Blackton, and W.K.L. Dickson, from end of the 19th Century, to shorts and features from the end of the Twentieth Century. In between were mostly subjects that interested me, jazz music, animation, baseball, Hollywood of the silent and early sound era, advertising, propaganda, and over all, history. To quote Caspar Gutman in The Maltese Falcon, it wasn't schoolbook history, not Mr. Welles' history, but history, nevertheless.
The next morning at 6:00 am I started driving west. It was August second and I was scheduled to begin showing films at the Clinton St. Theater in Portland on Friday the 13th. I had ten days and two hundred dollars to get there. Gas was around a dollar a gallon. I wasn't worried.
Before loading my films on Staten Island I had previously loaded all of my other possessions. They including a 1938 Rockola  juke box, thousands of books, LPs and 78 rpm records, two 35mm DeVry Portable projectors,and several 16mm projectors. Everything I owned was heavy. My film archive had started in Seattle. I had relocated it by rental truck to New York in 1995. Moving to Portland would be completing a circle. I'd be back home. My family had arrived in Oregon, before Portland was founded, in 1843.I trusted that this rental truck would be able to safely haul my possessions. After all, shouldn't a commercial rental truck be able to haul anything anyone could fit into it? I wasn't taking anything as heavy as a huge coin collection, gold ingots, or metal scrap.
I had obeyed recommended procedure during the loading and had put most of the weight of the load between the axles. I happily hit the road. Crossing the bridge to New Jersey everything seemed fine. Once in New Jersey I was on crummier roads. Whenever I would go over a bump I would hear a weird noise from the front end. When I would put on the brakes a rubbing noise would last until I came to a stop. Somewhere in New Jersey I stopped for breakfast and inspected the front tires. I found that at standstill the front fenders were an inch or two away from the tops of the tires. When braking the inertia of the load would push down the front of the truck. The rubbing noise was the sound of the tires rubbing against the under side of the fender. In the sun baked parking lot of the truck stop I emptied out most of the truck and re-loaded. I had to move the weight back from between the axles,with more of it near the tailgate. It would make driving more dangerous. It would also make it possible.
Just for luck I did something I never thought I'd do. I tossed a couple hundred pounds of films of little interest into a convenient dumpster. Decisions had to be made.They were mostly faded Eastman color x-rated features from the seventies that a stranger had salvaged from a trash heap in the early 90's and had driven them to my theater in Seattle. A truck stop employee came out to tell me I couldn't do it. When I told him what it was he got a gleam in his eye. I'm reasonably sure the films didn't go directly to a landfill.
Considering how much weight I was carrying I decided to stay off the interstates and instead take slower state routes until I got past Chicago. There was no real rational for that decision. For the rest of the day nothing bad happened. That night I made it to Kent Indiana and stayed at a former Knights Inn. It had been re-decorated and no longer fostered the illusion of sleeping in a medieval castle. It had not been originally a very good illusion. The one I had once stayed in near Nashville was more like sleeping in the Cecil B. DeMille set of a midieval castle. I was too tired to be properly disappointed.
At 7:00 AM I hit the road. It was a beautiful day. Before long I noticed a grinding noise whenever I braked. It was different than the rubbing noise. I stopped for coffee in Huntington Indiana and checked the front brake rotors. Both rotors weredeeply scored. When a brake rotor gets scored it can seize at anytime and lock up one of the front wheels. At sixty miles per hour that can lead to interesting consequences. Death is one of them. I called the 800 number and was directed to a truck repair shop a mile ahead. There I was told new front rotors and pads would take a couple of hours.
While the truck was being repaired I visited the Dan Quayle museum. Yes, Huntington, Indiana is the birthplace of Dan Quayle. The museum was on the sun lit second floor of a decommissioned Christian Science Church. The room appeared to have been at one time a meeting hall. A small stage with proscenium was at one end. Blond oak glass topped display cases held mementos of Mr.Quayle's boyhood in Huntington and later career on the national stage. They included high school yearbooks, school awards, and photos with Ronald Reagan. Several portable blackboards had actual news clippings thumb tacked to the cork facing. The clippings included pictures of Dan, and his wife Marilyn, many of them faded from the sunlight. It was the high point of the trip and I recommend it heartily to anyone driving across the US. The truck was repaired by 4:00 PM. I drove west until midnight. Passing through some small town I didn't notice it when the arterial turned left. I kept going straight and was now on a city street.
I was then startled by a very unexpected stop sign. I slammed on the brakes with little effect. I was halfway through the intersection before I came to a stop. It was obviously time to stop for the night. I found a nondescript motel in Peoria, Illinois, thankful to have made it that far.
At breakfast I got out the map. I was past Chicago and could now get on an interstate. I also had to figure out which pass over the Rocky Mountains would have the gentlest grade. I was concerned that the heavily loaded truck didn't have the power to make it over the top. My options were limited. Driving South through Missouri and Oklahoma seemed to be the surest thing. It would also add almost a thousand more miles to the trip. The other routes were on 1-80 through Rock Springs to Salt Lake City, or I-90 through Butte and Bozeman to Spokane. I decided to go north to I-80 and make the mountain pass decision later.
I was going up the one of the very few hills in the state of Iowa, and had put my foot to the floor to maintain speed, when the driveline broke, with a tremendous bang. It sounded like a bomb going off, and was followed by a series of loud crashing noises. I had no idea what had happened. I lost speed. Stepping on the gas did nothing. Shifting gears did nothing. All I knew was that the engine was running but no power was getting to the rear drive wheels. The crashing noises suddenly stopped. In an eerie quiet I coasted to a stop. I was barely able to get completely off the road. It was a very narrow shoulder. I was about to open the truck door when a semi truck thundered past, seemingly inches away. I carefully exited the vehicle, went around to the back, and sat down on the rear bumper. I hoped a police cruiser would stop and offer assistance. I finally gave up, cursed myself for not signing up with AAA, and started walking west.
To Be Continued