photo Dave Meistermoab
I was not alone as I drove along the edge of the dry Lake Winnemucca on Route 447. I saw a herd of dozens of Pronghorn Antelopes. I'm not sure if was because of the early time of the year, but their backs were very red against the white of the rest of them. Very beautiful and graceful animals. A little further on I saw a dust storm in the distance. I was glad it wasn't in front of me.
On the far edge of the valley I came to the town of Empire. Interesting name, that. It was not much bigger than Imnaha Oregon, with the few houses dominated by a large buildings that said United States Gypsum Company.
Photo Steve Jurvetson
Shortly after that was the somewhat larger town of Gerlach. A dog walked out in the middle of the road as I approached. It just stood there and made me drive around. One business, in its own one room building, said Burning Man above the door. I later learned that I was now at the edge of the Black Rock Desert where the Burning Man event has been held every year since 1991.
I noticed a large very black cloud over me. Just past Gerlach it started to snow. Luckily, I could see the black cloud was moving in the the opposite direction of me. Through the falling snow I could see blue skies ahead. Somewhere along there I passed from Nevada to California. There was no welcome to California sign. There was no indication at all. I only knew because the little mile markers saying NEV had changed to CA.
Leaving Nevada is much different than entering it. Every entry place seems to have a casino at the state line. In the late 1980's I drove straight west across Utah from Salt Lake City to the Nevada boarder. From miles away I could see the lights of West Wendover on the Nevada side. At the border was a huge neon cowboy. He might have been fifty feet tall. He waved hello with one hand.  A cigarette, the end glowing red, dangled from his lips.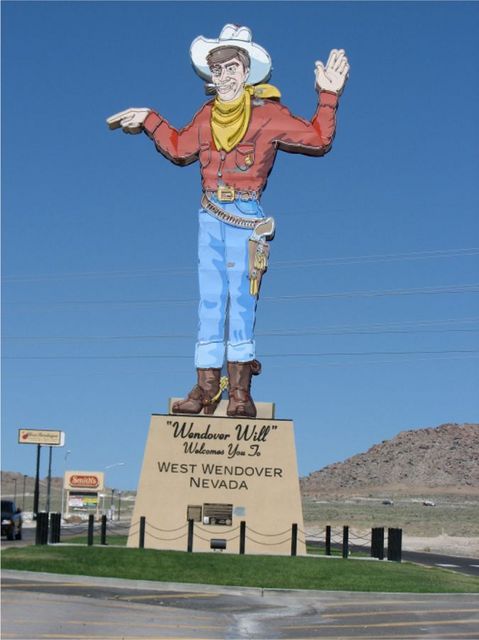 There was a small, dark un-named town on the Utah side. It had dirt streets. On the Nevada side everything was paved and the lights gleamed. That was the way it was when gambling was available only in Nevada and Atlantic City.
As I neared Cedarville the terrain changed from moon rock bleakness to trees and greenery. A deer crossed in front of me and jumped into the bushes. The town itself was tight up against a snow capped mountain range. I passed along the businesses on main street looking for the Theater. My plan was to park in front and then call Matt about getting the projection equipment. I hoped I would find Matt waiting for me. I had sent him an email from Fernley saying I was a couple of hours away. It was now five o'clock. I hoped to be loaded and rolling by six. If all went well I thought I could be home in Portland by midnight.
I found what I figured was the theater. It looked bigger than I had expected from the photo. The front had also been changed and there was no vertical sign. It had a peaked metal roof in back of the false front. It was a sad looking place. Instead of parking there I drove back and parked in front of a business that said Groceries – Liquor – Information. Inside I was told that yes, the building two blocks up was the old theater. I asked about a pay phone. I was offered the private phone in the store. I called Matt and got a woman instead.
She told me that Matt had gone home to Coquitlam. She said she was on her way to Reno. She told me there was a man in Cedarville who had a key to the theater who could let me in to see the stuff. She told he he was a middle aged cross dressing man named Heidi. She added he was the ugliest woman in the town. I wondered exactly why she needed to tell me that.  His house had a VW Bus parked in front. It was an old one, filled with camping equipment, that didn't look like it had moved any time lately. The house had a locked padlock on a hasp on the front door. A window next to it had a hole in it about the size of the thrown rock. It's probably not easy being a cross dressing man in Cedarville.
I went back to the theater. I tried the doors and front windows. It was locked up tight with no way to get around to the back without climbing a tall fence. I got in the truck and left. Leaving town I drove west, toward the snow capped range side of town, up a steep incline road. Near the top I was on packed snow. I hoped that once over the pass, on the corresponding side where the snow had started, it would be gone.
That didn't prove to be true. Not only was the packed snow on the road on the other side, but it was now snowing. A yellow sign appeared that in big letters said ICY.  One good thing about driving in snow, a car will continue going straight as long as you don't slam on the brakes or jerk the wheel. Most problems come in starting or stopping. Another problem can arise when the snow gets so thick you can't see the road and it curves on you. Luckily, that didn't happen. There were times when I had a hard time figuring just where the road was, but staying straight kept me on it. A sign appeared that said "Stop Required in One Mile." That was good to know. I slowed down. A half mile later another sign said the stop was half a mile away. When I got to the stop I was ready. Luckily it was on level ground and had no problem.
I turned left, now heading South, on Route 395. It was still snowing steadily. Before long I came to the California Auto Inspection site. I drove into the drive through garage. A young man told me I was free to proceed. I asked him if he thought I should chain up. He asked me where I was going. I told him I'd take Route 139 north to Klamath Falls. He said I shouldn't need chains. I asked him if I was driving toward more snow or less. He said less, at least from earlier reports.
I drove on. Sure enough, the snow stopped. I was soon again riding on pavement. Nearing the turn onto Route 139 it started to snow again. At the intersection I was again plowing through snow. I hoped it wouldn't be snowing further north. I made the turn.
The first road sign said Tulelake 40, Klamath Falls 62. The ruts in the snow, left by the car ahead of me, which I never saw, were filling with snow. It began to snow harder. Before long the ruts in the snow were gone. The road in front of me was smooth snow. It was now snowing so hard it was hard to see just where the edge of the road was. I continued straight ahead. I then realized that now I couldn't turn back even if wanted to. I also couldn't pull over and chain up. I also couldn't just stop and do it. There were no headlights in my mirror. That didn't mean someone might not come along later. I wondered if I was the only vehicle on the entire route still going north.
In the 80's I once drove west from Laramie, Wyoming into a Rocky Mountain snow storm. That was on I-80. I was driving a Toyota. I got behind a semi. I could just see its tail lights through the snow. On a sweeping curve I saw that I was the only car among dozens of big trucks. I followed the tail lights to Rawlings where I got a motel. I wished there was a semi in front of me now.
I found myself hunched over the steering wheel. I straightened up. It kept happening. I kept straightening up. I took my hand off the wheel to adjust the heat. I found my hand was sweaty. I was moving forward at thirty miles per hour. In an hour I should be at Tulelake. I had adjusted to things and was moving forward. It continued to snow.
I realized my windshield wiper wasn't completely cleaning the windshield. It was leaving half of the arc obscured. The wiper had built up ice. I had to move over to the middle of the bench seat to see better through the passenger side of the windshield. I wondered what I would do if the that side iced up. I noticed headlights in the rear view mirror. They were way in back of me. I felt better knowing I wasn't the only driver on the road.
A few miles from Tulelake the snow stopped falling. Before long I was again on dry pavement. A half hour later I was in Klamath Falls. It was nine o'clock. I got a burger and fries from a drive through window. I got directions to get gas at a Pilot station on route 97. I figured I could be home by two o'clock. I ate as I drove north. I was twenty miles out of town when I realized the gas station had never materialized. I didn't have enough gas to get to Eugene. I turned back. It was now ten o'clock. I spent half an hour looking for the right motel. It was the Majestic one story brick structure with two wings. It was thirty bucks and whole lot nicer than the one in Tonopah.