I  noticed that reports on the last couple of days have been  full of minutia but not much of riveting news.   Those  were action packed compared to yesterday.  Realizing that, I will try to skip the minutia and just report high lights, such as they were.
I awoke in Copenhagen at 4:30am and wrote a report for the 16th and posted it. I then took a very long shower. I then went back to bed and got up at 8:00 and went down to breakfast. The pleasant breakfast room of the Hotel Danmark had a  basket weave ceiling and a lot contrasting vertical lines for decoration. it was about one third full. Coffee was brought in a pot and was the best coffee I have ever had in a hotel in Europe. I also had two croissants that were still warm out of the oven and some bread with cheese.
Ack!  I can't help myself.  That was all minutia.  I'll try to do better. I'll  just skip the rest of breakfast and the next few hours, which did include missing one train through an odd occurrence, finally finding in one of the several 7-11's in the main station the remnant of the newsstand (which only had yesterday's papers), reading an article at that newsstand about Hamlet not being a Dane , being treated very nicely by various train personnel, and after changing trains three times coming to the small town of Schleswig.
I got off in Schleswig feeling a little like Cary Grant when the bus drops him off at the deserted rural crossroads in North by Northwest. Just exiting the train had been unusual.   As I was wallking toward the  exit door I heard the whistle blow on the platform. My opening the door startled the conductor who was climbing the steps to the door in the adjacent car. Apparently nobody gets off at Schleswig. The train, the Schleswig-Holstein Express,  a  peculiar train in its own right, pulled away and left me standing with what seemed to be acres of nothingness around me. I was at the far end of the platform with the station far across the tracks and at least a hundred yards away.  To get there I had to walk opposite and past it and down a long walkway, then make a U-turn under the tracks and repeat the exercise. The spooky walk was not brightened up by any art work.  Schleswig Station was not one that had been modernized.  I thought maybe I could buy a Tribune. The station store had a closed sign on it. Not closed for the day, closed for good.  7-11 hadn't arrived yet, or had decided not to come at all.  I had a half hour, so I walked outside. It was gray day with a biting wind. I walked downtown. I had wandered into the town that time had forgot.  Nothing seemed any newer than 1980. The main businesses seemed to be 2nd hand and antique stores. I went into one and asked for 16mm movies. No luck. I didn't see anything that looked like a news stand. I saw more stray dogs than I did people.  I took a circular route though the downtown and back to the train. I felt extremely glad when the the station appeared ahead of me.  The train to Kiel soon appeared and thankfully nothing happened to keep me from leaving the town.
The train to Kiel was full of students. The small first class area had nothing to brag about except it was empty and quiet. Outside the door there was some sort of party going on with several of the kids holding helium filled balloons. Outside of (and above) Rendsburg the train stopped. A freight train went by. We stayed stopped. An announcement was made in German. Apparently this was a true local's local and no outsiders ever ventured on it. After a while a passenger train went past. A little after that we got going. I assume that had something to do with the resurfacing work on the big trestle.  I have written about this bridge and trestle in the past. It amazes me every time I have been on it.  It is a monumental work of engineering and construction.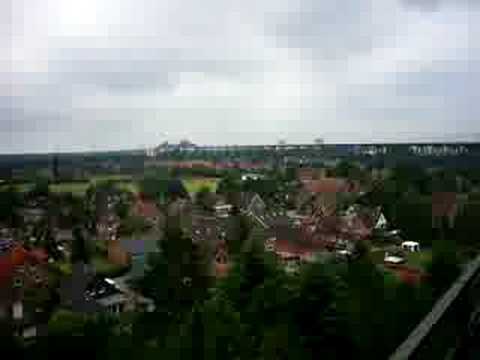 I hope tomorrow will be more eventful so I can give you a more interesting report.
Oh, I guess I should tell you why the Schleswig-Holstein Express is peculiar. It runs several times a day from Hamburg to Flensburg.  It always has many cars, and at least when I have been on it, very few passengers.  Just for curiositie's sake I have walked through car after empty car after empty car while riding it. It brings to mind  the guys from the submarine walking through empty San Francisco in On The Beach.   The only thing I can figure out is that it is packed during rush hour and in between it is too much trouble to make it shorter to correspond with the changing situation.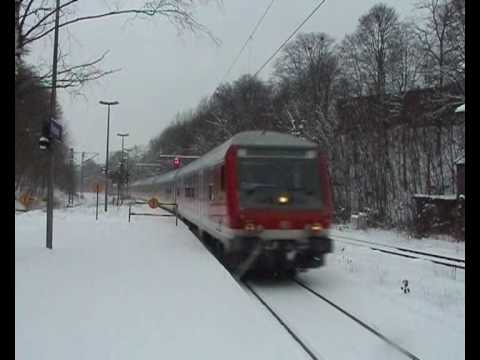 I did find good news when I got back on line that evening.  I had been negotiating to show films in England at the end of this trip.  I finally got the confirmation and  I would be flying from Frankfurt to Manchester on April 9 and then flying home from London on April 15.