When I arrived on March 8, 2011, at noon, Portland International Airport  was practically deserted. There was no line at all at United Airlines. I checked through to Copenhagen the heavy bag with the film programs in it. There was no line at security. I used PDX WiFi to send some emails and catch up on news. That took me to boarding time.  I had an aisle seat.  The United Airlines inflight magazine was out of date and didn't have current movies, just the line up for February. It did say there would be lunch or dinner on flights over three hours.  That would be us. That was a lie. Or maybe that was the case in Feburary but not in March. Food was for sale, but only using credit cards. I had apple juice both times the liquids cart came through. I did the inflight mag crossword. It was weird with half of it being black boxes. That meant very few cross clues to help when something was filled in. I had never seen a crossword puzzle like it. It was all about the Academy Awards. My mind was not sharp. It took me forever to remember Tom Hanks name. I got most of it done. Knowing about Emil Jannings and Janet Gaynor was a help.
We arrived early at O'Hare. Trooping off the plane the first thing I came to was a life size Brachiosaurus. King size! It straddled the passage and was said to be a replica of the real thing at the Field Museum.  It made me think of the movie Bringing Up Baby.
At the SAS counter I was told we would be fed on the plane. I sure hoped so. I didn't buy any food. It was all crap at ball park prices.  A domestic beer would have been $8.25.   No free wifi in Chicago. An elevated train took me to the  international terminal. It was the most fun I had all day. Looking ahead on the track was like  being on a low thrill roller coaster. It even picked up good speed going downhill into a curve.
At Terminal 5 there was only one shop for candy and books and such. It wasn't even in a store, but just strung out along the passageway. The flight boarded on time.  Down the passageway, and just outside the plane's door, were free newspapers. I took a Chicago Tribune and a International Herald Tribune. I had an aisle seat in the middle section. Four big guys took the rest of the row. The all spoke Russian and looked like they belonged to a sport club.  Dinner was soon served. It was chicken with peas and roasted potatoes. Tasty. Also salad, roll, butter, crackers, cheese and a cheesecake dessert. In the pocket in front of me were head phones. Real over the ears kind, not ear buds like on some flights. I considered that an improvement. I watched most of Bruce Willis movie that featured Helen Mirren and John Malcovich. They were all retired CIA people forced back into action. Action was the right word. Not much thought. I also watched part of a thriller about a runaway train with Denzil Washington. It was ridiculous. I turned out my light and closed my eyes. It was uncomfortable. Eventually it was morning. For breakfast it was a sandwich, yogurt, orange juice and coffee.
We arrived half an hour early. No line at passport control. My bag was the last one onto  the carousel. I got directions and found the Baltic Air counter. I again checked through the heavy bag. At Starbucks I ordered a huge Caffe Latte but they wouldn't accept my good customer free drink post card.  Instead I bought a medium drip. That cost about half the DK I had found in my suitcase left from last year. The woman felt bad about my free card being refused so she threw in a free caramel waffle cookie. Gate A-2 was by itself. It was  sort of a cattle pen area. I was working on the Herald Tribune crossword and drinking coffee when we were told to leave. Everyone got in line outside. I went to the toilet, 150m away according to a sign, and found it down four flights of stairs. Back at the cattle pen I was told I had missed the bus to the plane but I was in luck as there would be another one. Why not? It was still over half an hour to flight time. A few more stragglers arrived who were lectured more harshly than I had been about how it was only luck that there would be another bus since they should have been there half an hour early. That bus took us far away to a turboprop plane parked on the tarmac. It was a medium size plane with a single aisle between double seats on each side. I was on the aisle in row 8. A youngish blond man wearing a blue sweater was at the window. The refreshment cart seemed to only have stuff for sale. They only accepted cash. Nearing Riga we passed over iced in water. There were open passages in the middle of the channel and in other places the ice was broken. The ride got a little bumpy approaching the airport. From the air the city looked cold and inhospitable.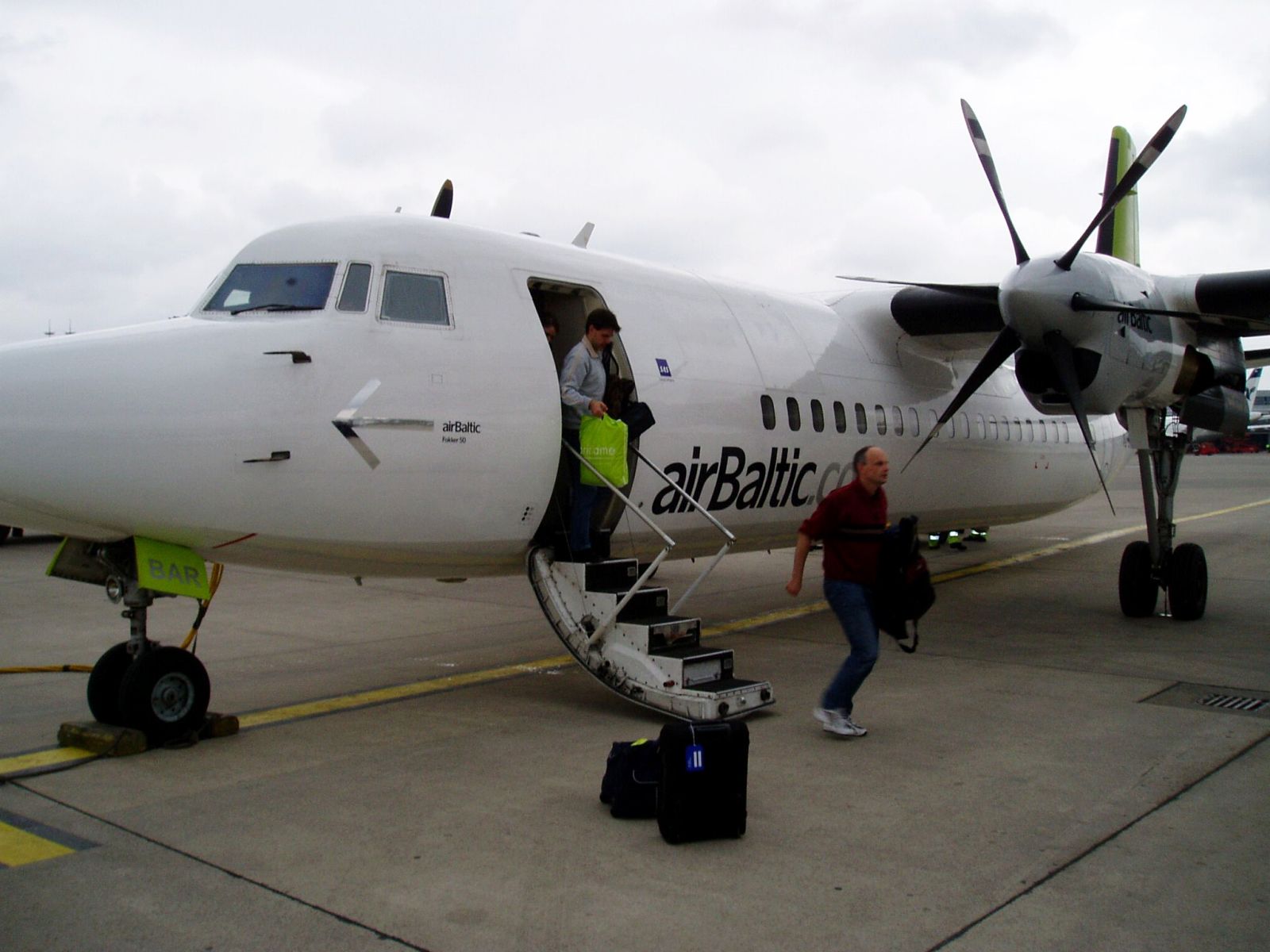 The airport had most  of the usual stuff for sale, except there was more perfume and luxury goods for sale than in the US and no fast food franchises. At my gate I found an electrical outlet. It took the 220 volt 2 pin plug. I am glad I remembered the two Europe plugs I had gotten in the fall.  At boarding time there was no action at my gate. I un-plugged and packed up and checked the board in the main hall. My gate had been moved. I went there and got on the plane.  It was another turboprop the same as the previous one.
I was again in row 8 on the aisle. When the drink cart came by the woman next to me asked for water. I was going to ask for water too, but stopped when the stewardess asked her for four Euros. My Euros from last year were still in my checked bag.  The woman did seem to get some value for her money. In addition to the bottle of water was a cup of carrots. They were tiny, un-peeled, with shorn tops. Across the aisle from me was a young woman who looked like she was heading to a film festival. Or maybe she just dressed up to travel. Or maybe she always dressed that way. She had hair so black it looked blue where light reflected off it. It was wrapped up in a black turban kind of like Lana Turner wore in the movie The Postman Always Rings Twice.
She was wearing tinted glasses with wide black ear bands. Some sort of sparkly material made an M on the widest part of the band. She was wearing a black long sleeved sweater with an leopard  print scarf. She had blue jeans with dark brown leather knee high boots. She had rings on most of her fingers, dark maroon finger nails, and a bunch of cut clear glass and rhinestone bracelets. In her lap was a white jacket with big shiny black buttons.
Nearing our landing the turbulence was extensive. I almost threw up. That would have been a  first for me. We got safely down and to the gate. Inside was a very modest airport. There was one baggage carousel. I got my bag and went outside. A young man was holding a film festival card.  I asked the group what they were doing at the festival  One was a young American, Yony Leiser, who had made the film William S. Burroughs: A Man Within.  A young blond woman and man of my age were there from the Riga Film Festival. Another young man was a journalist from Berlin.  We all got into the van. The young man driving the van said he would be doing a foreign exchange year in Vancouver, B.C. next year.  He then offered that the mountain in Paramount films was from Portland.  I wonder why I had never heard of that.  Of course it is Mt. Hood!
Yony and I were the only ones to get off at Grand Hotel Tammer. I checked in and first thing in my room took a shower. I then dressed and left. At the front desk I got directions to the opening night party. It was "one kilometer" away and would include only two turns and one passageway to get there.
Even with the directions I had trouble finding the place. It wasn't that cold but there was plenty of snow and ice to contend with.  I was practically on top of it  when I asked a young couple for directions.  They pointed it to me. There was a outside dining area, optimistic I'd say considering the climate, with a low fence and locked gate. I hopped over that. I could see the bar through the first door I came to but it was locked. A couple of people came out of a door up a short flight of stairs to my left. I went in that door and found myself in a big club. I worked from the back of the place to front to see if there was a place to get my badge. There I found a line of people waiting to get in. Two guys were checking Ids. One of them told me I had to check my coat and it would cost two Euros. I exited past the waiting crowd, went around the back and entered again the same way as the first time. The reason the one back door was open was so people could come outside to smoke. I dumped my coat at at an empty table. At the bar a woman  sized me up and asked if I was Mr. Nyback. She pronounced it NueBoch.  I was shocked she could recognize me from a tiny photo I had sent for my badge. I told her I was hungry. She got me two sandwiches and a beer. I was seated at a table when a woman came over to me. She told me the festival director Jukk-Pekka Laakso would like to talk to me. He soon arrived. He had another beer for me. Both my beers were  lagers and curiously were not full to the top of the pint glasses,  a full inch of the top. He was a pleasant guy. He said my Kill A Commie For Christ Program had sold more tickets than anything else in the festival. He said the entertainment that evening would be the Chinese dance artist Zhang Mengqin. She soon appeared, from a far door, dressed for the outdoors. She walked toward the crowd with a spot light on her. A recording of her talking voice accompanied her. She did a strip tease as she walked forward, eventually getting down to heavy white tights and a tight white shirt. I could then see it was not a spot light, but a projection of her talking face being projected on her. In back of her, high up near the ceiling, an English translation of her monologue was projected, which I was not in a position to read. When she had come forward  as far as she could she stopped and sat down on the floor. She then took out red lipstick, and pantomimed marking up her face. The projected video provided the red marks. She eventually took her shirt off in order to mark up her arms and shoulders. She was left wearing just the white tights and a bra. Her voice got more frantic. So did the projected red marking. There was what I took for a pause, but someone started clapping and I guess the show was over.  I enjoyed it, but probably would have got a lot more out it if I had understood what she was saying.  A Chinese dragon, such as in a Chinatown parade began dancing on stage.
I left and walked back to the hotel. Halfway there I was stopped by a somewhat drunk man with a couple of others more so. They wanted directions to a pub. It took him a while to understand I was an American who had arrived that day and could not help. They were Brits. The snow and ice didn't seem to bother them at all.