April 2 Duselldorf, Germany
I was awakend by a bird that sounded more like an electronic alarm clock than a living thing.  It would go peep peep peep peep peep  peep – pause – peep peep.  It then would repeat it in a very regimented way.  Each peep itself was sharp and almost metalic sounding.  Last fall I read The Wind Up Bird Chronicle while I was in Europe.  Maybe what I was hearing was a wind up bird.  Bright sunlight had filled the room by the time I got up at 8:00.
The free breakfast  wasn't bad at all, but all I had with the not very good, and not enough of it, coffee,  toast and a couple of croissants. I grabbed a banana to eat later on my way out.  Back in my room I turned on CNN and actually got some baseball news.  I left the hotel at 9:30. My intention was to walk to the train station  but was talked out of that idea by the desk clerk.  She told me it would be over a half hour walk but only three stops on the Metro.  It was already warm and it looked like it would be a hot day. At the Metro I found didn't have the coins to buy a ticket and the machine didn't take cash.  There are no attendants at Metro stops like in the subway in New York.  There are also no turnstyles.  You can ride a train without a ticket and the chance of getting caught is slim.  I took my chances.
I got to the station an hour and half  before train time.  I walked out of the station looking for a Starbucks.  I gave up and went back inside and bought a Trib and asked the clerk if there was a Starbucks nearby.  She said in the station at the opposite end.  Sure enough, a real Starbucks with plenty of seating and free wifi.  I posted a report on my blog and announced it on facebook.  I walked to the platform five minutes before scheduled time and found a cryptic note on the board.  It was cryptic  only  because I don't read German.  I was able to decipher, which was proved by an announcement, that the train was delayed 25 minutes.  I went back to the Starbucks and sent Volker in Hamburg  a message to adapt accordingly.   Back at the platform I found a place to sit.  There was an air of stoic resignation among the people waiting. It was present in their postures and in the tones of their voices.   Many lit up cigarettes.  The sunshine and warmth made it less bad.  A train arrived but it was the one scheduled and not the tardy one.  When the late train did arrive it had no signage saying it was the right one.  All of the long time loiterers got on and so did I.  The cars were of an old design with all chairs and no compartments.  An announcement said it was a replacement train.  I was amazed they could rustle one up in such short order.  It even had a bistro car.
At Dortmund that train terminated and we all got off and boarded a more modern replacement train across the platform.  I went into an empty compartment but was soon joined by an older couple who were speaking a language I didn't recognize.  I would guess it was a Slavic language.  They kept up a lively conversation for most of the trip. No conductothe old curiosity shopr arrived to check tickets or give out free beer vouchers.  I got deeper into The Old Curiosity Shop.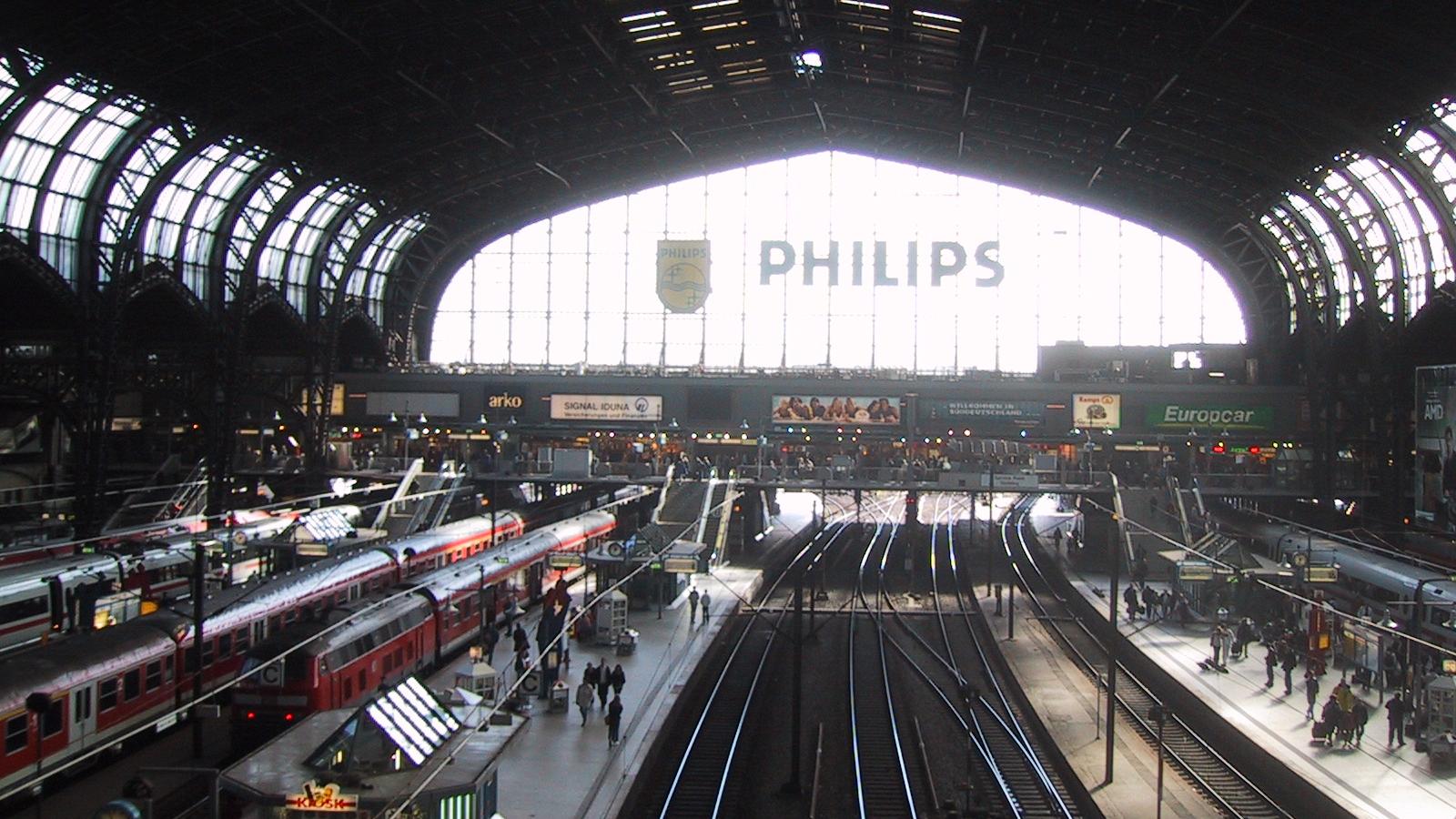 Hamburg is one of my favorite train stations.  It is laid out sort of like a football stadium.  The tracks are on the playing field and the concourses are accessable by  stairs and  escalators at each end.  I got off the train and walked toward the South escalator.  Looking up I saw Volker and Esther waving at me from the top.  The train was almost and hour late.  That didn't leave time to go to their  flat and then to the theater.   The event would be the film Hellzapoppin at 6:00 and my Lindy Hop and Jitterbug show at 8:00.  Dancing was to follow.  Volker suggested we get coffee.  I suggested we drop all my appurtenances at the theater first.  It was a warm day.  The Metropolis Kino was built in 1957 and at the time was the largest theater in Hamburg.  It had 70mm and Todd A-O.  It is now on the wrong side of the tracks from the train station. The other side is all upscale shopping.  The Metroplis side has bars and sex shops and even small grocery stores.  Past the Metorpolis in a nicer area we found a cafe with sidewalk seating. The sign in the window said it was a Bistrotecque.   I ordered a chef's salad.  Since I didn't understand their order I was surprised that it was pie.  I was pretty sure there would no time for dinner later.
A crowd of fifty or so came to see Hellzapoppin.  The program had been written about in a feature article in the newspaper.  There might have been more people but it was possibly the first really nice Saturday of the the year.   I should not have been surprised when it hit the screen and was dubbed into German.  That compromised most of the repartee between Olsen and Johnson but since that's  not  exactly Shakespeare, and not much of a loss,  the film was still enjoyable.  All of the musical numbers were in English and all of the running around  and slapstick was universal.  The evening had been co-sponsored by one of the local Lindy Hop clubs.  A young woman introduced Hellzapoppin at length using words Harlem New York, Savoy Ballroom, Swing Music,  and Frankie Manning more than a  few times.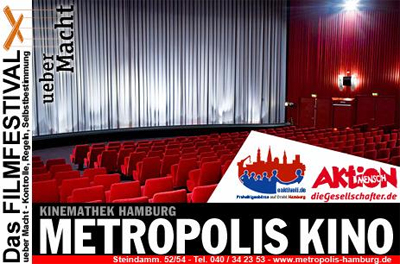 I'd forgotten to take the slips of paper out of my reels that list the contents before giving the films to the projectionist.  That allowed me to visit the projection booth to get them.  To get there we had to go outside to an alley and then up a fire stairs.  I was told that was fire code to keep the film isolated from the rest of the theater.  That was done even though showing of flammable Nitrate film had stopped by 1957.  The crowd was closer to 100 for my show.  That is much better than my shows here last year. Even with that many the crowd was spread out in the big old place.  Everything ran smoothly and looked good on the huge curved screen.

Metropolis Kino Lobby – Soon to Become a Dance Floor
At the end of the show I got a lot of compliments on it. I was introduced to both Volker and Esther's moms, women of my age.  Most of the crowd then went into the lobby where a dance floor had been created in the uncarpeted area where tables had been  All were dressed for a special occasion.  A DJ provided vintage dance music and most everybody danced.  So did I. I danced with a whole bunch of women.  They knew the basic Lindy without being expert but all had personal style. I really had a ball.   The music was eclectic with most of the tempos being what the hep cats used to call "Business Man's Bounce."  That was just as well.  Dancing generates a lot of heat.  The woman tending bar told Volker that she had never seen so many smiling faces at the Metropolis.