You can watch trailers for two of my film shows: Terrorism Light and Dark and I Know Why You're Afraid.
The fully explained titles below are some of my most successful programs shown in  Europe and various United States cities.
---
---
Bad Bugs Bunny The truth about American history revealed in fabulous Warner Brothers cartoons! It is all here, the racism, sexism and violence.
Vaudeville Deluxe Napoleon commented that people want to be astounded.  Here's your chance.  Vaudeville Deluxe is comprised of some of the most astounding and entertaining Vaudeville acts ever put on film.  All from the the golden age of Vaudeville in the Twenties and Thirties.  From the famous such as W. C. Fields to the obscure such as Bernice and Emily.  All exquisite entertainers from a time when entertainment meant more than just singing on American Idol.
The Effect of Dada & Surrealism on Hollywood Cinema in the 1930s Hollywood took Dada and Surrealism and cheerfully dumped them into American movies with no explanation or framing devices in the early 1930s. This program shows great examples of films that jumped on the Dada and Surrealism bandwagon to delight and mystify viewers reeling from the Great Depression.
Jeanette MacDonald In Her Undies is comprised of two exquisite Pre-Code Hollywood musical feature films starring singing star Jeanette MacDonald.   They are Monte Carlo (1930) directed by Ernst Lubitsch and Love Me Tonight (1932) directed by Rouben Mamoulan.  They feature not just lovely Jeanette sans clothes, but also great songs by Richard Whiting (Monte Carloe) and Richard Rodgers and Lorenz Hart  (Love Me Tonigh). Also  sparkling direction, incandescent camera work, clever writing, and the leading men Jack Buchanan and Maurice Chevalier.  The supporting players include Zasu Pitts, Myrna Loy, Charlie Ruggles, and Charles Butterworth.
Billie Holliday: First to Last The one and only Lady Day in film appearances 1935-1957. Includes the first half hour of the feature film New Orleans made in 1947 in which he plays a maid and also sings with Louis Armstrong. The program concludes with the second half of  "The Sound of Jazz" television show from 1957 which features the greatest assemblage of jazz talent ever assembled before a camera.  It features Billie singing with Lester Young.  Both would be dead within two years.   Total running time 85 minutes.
Kill a Commie For Christ Can we learn from the past?  Can we have fun doing it?  A past where  good was good, evil was evil, Commies were bad and the United States was good? Was it that long ago? Was there a time when thoughtful people could really believe in Killing Commies for Christ? Here it all is in a roller coaster ride of US Gov films, newsreels, one Infomercial, and a musical interlude.
Oscar Winners (With some just Very Deserving Nominees) Cartoons Great Cartoons, all but one with Great Color, from 1934 to 1993.  Book this show for a rare chance to see these rare classics on film as they were all first presented.
The Dark Side of Dr. Seuss This could be called "What did you do in the war, Doc?"   For most of his long career Ted Geisel (Dr. Seuss) wrote hugely popular children's books.  Early in his career he wrote for humor magazines and made money in advertising. For a brief time in the 1940s he was in the US Army making gung ho propaganda and army training films.  Is there a correlation between attracting young readers and influencing the minds of adults?   With this program you can examine Dr. Seuss' adult oriented work and make your own decision.
The Birth of Betty Boop Betty Boop was a huge star in the early thirties with a whole line of tie-in products and a nationally syndicated comic strip. By 1939, her popularity had waned and the production of her cartoons was stopped. In the 1960's she was rediscovered by a new generation and became more popular than ever.  This program features her first cartoon appearances and shows her cinematic evolution from dog to woman.
The Age of Oil: Gasoline in the Twentieth Century
Films made by the Petroleum Industry, films made by Hollywood, and one film made by a Marxist.  It all combines to take a ride through a force in our existance that is much bigger than we can easily understand.
Hillbillies in HollywoodAlternate title: "The Incredibly Strange Country, Western, and Rockabilly Film Show". Over three hours of great music from 1927 to 1964, from the justly famous (Bob Wills, Jimmie Rogers, Spike Jones)to the unjustly forgotten (Hank Fort, Smoky Rogers, the Korn Kobblers), and many, many others.
Strange and Vicious War Cartoons Cartoons from a time when war was defined clearly as good versus evil and a victory came.  Can we learn anything from those days?  Now we seem to have what Orwell warned us against, eternal war.
The Open Road What is the myth and reality of America's long love affair with the automobile?  This program contains both and it's only a ninety minute ride at 36 feet per second. The myth includes carefree vacations, the joy of hitch hiking, long haul trucker warriors of the road, carefree bikers on their hogs, leaving the driving to Greyhound, and more.  The reality includes being busted for drunk driving, becoming one of the fifty thousand  a year who die in a horrible wreck, ending up a quadriplegic after a ride on a Harley, and road rage turning a mild mannered milquetoast into a vengeful maniac.
Good Intentions: Â  Scare Films American Teenagers Laughed At
Six classic educational films 1950-1974 showing the worries of the adults in American society and their mis-guided attempts to try and make teenagers see things their way. The timeless topics of teen angst, drinking, driving, drugs and delinquency.  A lot of fun for those who survived and can look back.
Ooh La La A History of Lingerie
A historic and fun look at women in their undies!  A nice variety of changing styles of what was usually not seen in daylight underneath modest dresses.  Very rare films from 1910 to 1954 with appropriate naughty music.
---
Jazz, Sex, and War Cartoons After my first tour of Europe in 1995 with Bad Bugs Bunny, I was asked to come back in 1996 with more animation programs. Jack Stevenson suggested I do a "Sex, Jazz and War" cartoon show. I was mystified how these topics would go together, but trusted Jack that there would be bookings for such a program. He was right
Hobo, You Can't Ride That TrainA look into a fascinating subject few are personally privy to.  Mr. Nyback rode freight trains across the United States while in college and has long been interested in freight train riding and the people that do it.  These rare films are a primer into a very little understood subject.
The Blaxploitation Cartoon SpecialExtremely rare cartoons from 1916 to 1943 offer an unvarnished look at how black people were portrayed during what is called "the golden age of animation".  They include work by some of the most famous cartoonists of all time. All of them are now suppressed.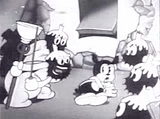 Subversive Animation A fast-paced roundup of wildly subversive animated shorts from cartoon history, many censored, banned and rare. Featured shorts include: screw the two party system with "Betty Boop for President", drug happy dwarves in "The Sunshine Makers", off the police with Woody Woodpecker in "The Screw Driver", fighting prohibition with "Mickey's Whoopee Party" and pro-commie, anarchist shorts, revolts against royalty and more.
 Compare To Disneyâ"¢ (aka F@!k Mickey Mouse) Is it true? Is there a segment of the population that believes Walt Disney invented animation? This programs examines how the other Hollywood animation studios reacted to the Disney juggernaut in the 1930's and 1940's.   I focus on three tactics by his competition:  Rip him off, beat him to the punch, or make vicious fun of him.
---
The Mormon Church Explains It All For You The first film made by the Mormon Church that I had ever saw knocked me over. It was called "For Time or Eternity". It was so skillfully made and had such wacky ideas. It was a film like no other I had seen. Reviews:New York Native
 Defining the 1970's Through Classic Commercials From the ridiculous to the sublime.  Thank God you won't be suckered into buying a lot of these products, since many of them are no longer on the market. For the others, this is warning to enjoy the ads, but don't buy the product — especially Rely Tampons which were pulled after killing many women with toxic shock syndrome. 
Lindy Hop and Jumpin' Jazz and Jitterbug  
The Lindy Hop dance came out of Harlem in the late Twenties
and people have been enjoying it ever since. These films
from 1938-1954 show it at its best combining great dancing
with great jazz.
Other Programs with no descriptions
1940's Featurettes
A Bugs Life: Not!
A History of Jazz Part I
A History of Jazz Part II
An Evening with Cab Calloway
Anarchy Can Be Fun
Anger at Work
Animators Go to War
Anti-Japanese Cartoons from WWII
Appallingly Bleak Film Experiment, The
Art of Animation,
Baseball Hi-Lites
Battle of the Sexes
Behind the Scenes in Hollywood
Big Band Bounce
Big Dick Cartoon Show, The
Black Experience in the 1960's, The
Black Jazz Dancing
Busby Berkeley Cartoon Show
Buster Keaton at his Best
Capital Punishment: Is It For You?
Cartoons Not Intended For Laughs
Cartoons Too Violent for Kids
Christmas Family Films
Chuck Jones Tribute: Gateways to the Mind, Private Snafu, One Froggy Evening\
Cigarettes and Beer
Class Warfare Rock and Roll
Comics Come to Life
Corporate Animation Amok
Country Music Round Up
Cowboy Music Hoe Down
Creepy Educationals
Croon a Little Toon
Cult TV
Cult, Oddball and Rubberhose Toons
Dark, Sad, and Funny of Bad Parenting, The
Defining the Sixties Through Commercials
Dennis Nyback Christmas Special
Dennis Nyback's Favorite Films
Disorder in the Courthouse
Don't Let it Bring You Down: Depressing Films on Interesting Subjects
Double Disco Sixties TV
Driver's Ed Killer Films
Drug and Booze Educationals
Drug Scare Films of Sixties
Early Trips: First Films of Famous Directors
Early Works of Paul Terry, Walter Lantz, Ub Iwerks, and Charlie Bowers
Educational Animation
Educational Hygiene
Emil Cohl Animation Pioneer
Europe Through American Eyes
Everyone Loves Laurel and Hardy
Film Noir Educatinals
Food: Is It For You?
Forgotten Greatness of Amadee Van Beuren, The
Friday the Thirteenth Special, The
From Zoetrope to Sound Cartoons
Fuck the Republican Party: Secrets from their own Propaganda Films
Funny Fatty: The Great Arbuckle
Funny Films From Orphan Studios
Girl Singers of the 1930's
Girls, Girls, Girls
Glorifying the American Girl
Goodbye to All That
Groovie Ghoulies and Friends
Gumby Superstar
Hal Roach Prince of Slapstick
Halloween Family Cartoons
Happy Birthday Duke Ellington April 27-29 1994
Harlem in the 30's Part I
Harlem in the 30's Part II
Hey Batta Batta
Hey Kids! It's Mickey Mouse
High Lonesome Films of John Cohen
Historic Cartoon Cavalcade
Historic Films of the Pacific Northwest
Hong Kong Hodge Podge
I Know Why You're Afraid
I Love a Piano
I'm Not a Feminist, That's Silly!
Industrial Animation Amok
Industrial Design and Refrigerator Fetish
International Sex Cartoon Extravaganza, The
Introducing Bugs, Daffy, and other WB Toon Stars
It Came Before MTV
Jazz Cartoons
Jazz in the 1920's
Jazz in the 1930's
Jazz in the 1940's
Jazz Stars in Suppressed Racist Films
Jazz Women on Film
Kill A Commie For Christ
Let Me Boogie Your Woogie
Let's Fly Away
Life and Death in the Fifties
Light at the End of the Century Part I, The
Light at the End of the Century Part II, The
Live From New York
Mack Gordon Music Night
Marcia Brady Fetish Night
Max Fleischer: A Body of Work
Max Fleischer's Greatest Hits
Meet The Soundies
Men in Drag/Women in Revolt: Cross Dress Extravaganza
Mental Hygiene Educationals
Mixed Nuts
Mixed Nuts II
Mixed Nuts of the Silent Screen
Mouse That Roared, The
Nicholas Brothers: Hot in Harlem, The
Night and Fog
No Reason to Stay: School, is it for You?
Not Even the Face is Familiar
NW Expose: Lost, Forgotten and Supressed Oregon Films
Obama Technocrat?
Offenisive Animation
Ooh La La A History of Lingerie
Oregon Original Mel Blanc
Oregon Originals Animation
Original Stylists, The
Outer Space is the Place
Pare Lorentz: A Body of Work
Perspective on the Great Depression
Politically Incorrect Humor on Film
Portland That Was, The
Presidential Follies
Primer on the Ku Klux Klan
Primer on the Vietnam War
Queens of Burlesque
Radio Days
Really the Blues
Rocky and Bullwinkle Marathon
Scalpel Fetish Night: Shocking Medical Films
Selling that Stuff 'Toon Style
Silent Animation
Silent Comedy Shorts
Silent Movie Clowns
Silent Stars in Knockabout Comedies
Singing Fools
Sixties Animation
Smoking, Drinking, Sex
So, You Wanna Fight
Space Patrol, Space Patrol, Space Patrol
Stag Party Special
Strange Films from the Psychedelic Sixties
Subversive Animation
Sunday Funnies Come to Life
Sweet and Hot Bands of the 1930's
Swing That Music
Tap Dance Films of the Thirties
Teen Trauma: Dating, Driving and Delinquency
Teen Trauma: Sex, Drugs and VD
Tex Avery at Warner Brothers
Tex Avery Toons
The Funny Funny Forgotten Mentioning
The Future That Never Happened
The Genius of Busby Berkeley
The Greatness of Charlie Chaplin
The Greatness of Ladislas Starevitch, The
The Greatness of Our Gang, The
The Greatness of W.C. Fields Shorts, The
Three Oregonians: Mel Blanc, Lee Morse and George Olsen
Tin Pan Alley Songwriters on Parade
Tough Babes of the Silent Screenings
Trailer Camp
Trash TV
TV Trash Fest Orgy
Valentines Day Massacre Romance Show, The
Wacky Women in 1930's Comedy Shorts
War: Is It For You?
Weird 60's Music Marathon
When Educational Films Meant Slapstick
World Puppet Animation
Wrappin it Up
You've Got to Be Modernistic
Zero to MTV