March 22 Tuesday
I had set two alarm clocks to get me up at 6:15am for my 7:12 train. I arose at 5:45 instead. I made a short pot of coffee. I read a little news with the coffee and a couple of pieces of toast. I dressed in khaki pants, a dark dress shirt, and my sport coat. I put black jeans and a tee shirt and a sweater vest in the backpack with the films. I put on my overcoat and headed for the station at 6:40. It was middling dark but getting lighter as I walked. I was in plenty of time so I bought a Trib before boarding the standing train in the first car. For this trip I would not be using my rail pass. I had been given a ticket good for a round trip to Switzerland by Ulrich Selle, the director of A Synygogue For Bad Segeberg, that was part of some sort of travel promotion. I sat in a four seats with table in a chair car. A woman took the one across the aisle. She was dressed just like me except she had pin striped shirt and a long sleeve sweater with khaki pants. She had red-blond hair in a prince Valiant cut. She took out papers from a briefcase and worked steadily until she got off at Hamburg.
The conductor took a look at my ticket and gave me a quizzical look. I hadn't filled in my name and destination and date. Well, I thought the guy the day before at the reisebureau had totally prepared it. I put that data in and it was accepted. I walked through seven 2nd class cars to get to the cafe car. There I got the special of croissant and cafe au lait for 3.50. The croissant was very fresh. The cafe au lait was fine. I walked back noticing one car was packed with students, all of them it seemed, eating something.
The woman across the aisle left at Hamburg. A young man appeared who stood in the aisle a long puzzling time before finally stowing stuff in the overhead and sitting down. He then got his laptop out and stared out the window for a while before finally starting to type. He had come prepared with a big bottle of water and a pastry in a bag. He got up to leave, and asked me to have a "short look"at his things while he was away. I read the Trib till just before Frankfurt. There I got out the laptop. There was no electrical outlet but I figured the battery would last till Lausanne.
After my ticket was checked, and punched, a second time, I walked the seven cars to the cafe car. I was surprised to see the students still there. Maybe they were going for ski trip in Switzerland. Included in my free ticket was also a voucher for a free drink, among those offered, Becks beer. At the counter I was told that it had be consumed in the dining room. I was surpised the young woman didn't speak much English and had difficulty telling me that. Maybe she had just come from the east. I walked back to my seat and got a special section that had been in the Trib, all about water, to read while I drank my beer. I walked back, through all seven cars and took a seat in the dining room. I presented my get a beer free card and was handed a menu and asked what I would like with it. Ah, it was one of those "free" with purchase deals. I got up and took the long walk back. After Freiberg I went to the WC, shaved, hand bathed, and washed my hair. It was a struggle. Train toilets aren't really designed for that sort of thing.
At Basel I got off and thought about buying something with my five francs coin but didn't see anything as I walked to my platform. Good thing. As I was going down the stairs the whistle blew. I got on and found all the seats were fours with a very small table. About two thirds down I found one with just one woman seated and a bunch of her stuff on the seat across from her. I took the catty corner seat. She was my age and not pretty. I liked the way she was dressed. She had gray dress with a short pleated skirt, gray tights, ballet slipper shoes and a mauve cardigan sweater. I have to say that people in countries that speak French generally dress better.  It would be a one hour ride. A young guy took the seat across from me. It was getting toward rush hour. He opened a very large hardback book, Nemesis. He wore a great big wrist watch. I could see it was half an hour still til my change at Biel. There was a reader board at the end of the car announcing stops. I saw Biel but it seemed too early. I thought maybe that was the end of the line announcement. When we stopped it said something completely different. I couldn't see the name of the station on the platform. I was sitting there when the woman spoke, "For Lausanne you need to change here." I thanked her and got my stuff and left.
The train to Lausanne was waiting across the platform. I got on and took one of the only duplex seats, with no table, in the back. The rest of the car had opposed pairs. I had no idea why it was that way. At Lausanne I went down to a main walkway. There I followed the flow of people the long way and came out to a street. I assumed this was the "front door" of the station Sebastien said he had met me. There was one man obviously waiting for something, smoking a cigarette, who ignored me. I sat down to read The Old Curiosity Shop. The smoking man left. I got up and asked a passerby if this was the main entrance. He shrugged and kept walking. I walked out in the street and saw a much more substantial entrance forty yards to my right. I guess I would have come out that way if I had walked the opposite way on the platform. A tall thin youngish man with short brown curly hair came up to me. He apologized for keeping me waiting. We walked a short way to his car. It was an 80's Citroen station wagon. Cool car! It had a child seat in the back and also a projector. He said he loved the car but it was no longer possible to get parts. We drove a short distance and parked. He left the projector in the back and took my back pack. I offered to take the projector but he said he would drive to the rear entrance and unload there. We walked around the corner and then up two flights of stairs to the theater. It was built in 1913 and was a lot like the Green Parrot. lt was narrower with a full across balcony. Cloth covered walls. The light fixtures were modern. There were amps and speakers and stuff in front of a working waterfall curtain. Several light bars across the ceiling held many spot lights. Sebastien told me that when it quit being a movie theater the owners had taken all the equipment out to keep someone else from operating it as such and there was no 35mm. The projection booth was tiny with very short and wide port windows.
He set the 16 up in the front of the balcony on a table he got from in front of the curtain. It was a Bauer marc 300 projector with an attached rectifier. Much like the projector a the Movie House in the 70's. There was no take up reel so we didn't test it. That was fine with me. We walked back out just past the entrance to the theater. There at the top of the stairs from the street was a door controlled by a keypad lock. That led to the apartment I would sleep in. He told me the code for the keypad. We then went up a stone spiral staircase, down a passage and through a door with a stained glass window, around a court yard and up two flights of stairs. There were bikes and all kinds of other stuff in the common areas. All of the lights were on timers which we lit up along the way. He unlocked the apartment door and handed me the key. He said he would go get the take up reel and I could have free time until 7:00. He gave me ten Francs in case I wanted to get something to eat. He said with my 5 francs added I could buy a proper lunch but that a proper dinner would be provided so I shouln't ruin my appetite.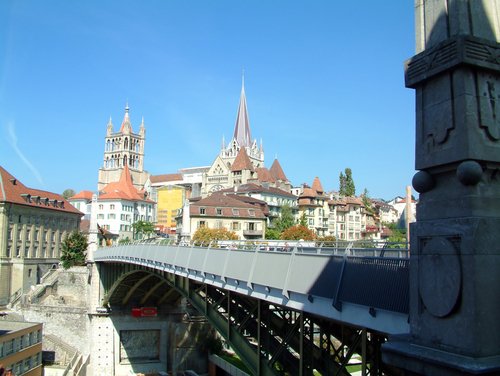 He left and I looked around. It was a perfectly nice little apartment with white walls and not much furniture. I stowed my stuff and took the stairs back to the street. I then headed down hill.  The theater was on a walking street with no auto traffic. The general feeling was that of Paris. I went into a patisserie, Tony's, and bought a shortbread cookie with chocolate spots for 2.50. It was very tasty. I found a news stand where I could buy the Trib in the morning. It was part of an old and cute small building above a public toilet. I found a Starbucks. I walked back up the street to the main road. It crossed an old bridge with no water running under it. It was a long way down to the bottom. I assumed the river was now covered up. A plaque said the bridge had been built in 1908. On both sides of the bridge there were street level elevators that would go down to the Metro or past that to the bottom of chasm. The Metro stop was on a line that in the morning would take me to the train station.
When I got back the door to the theater was open and Sebastien was up in the balcony and had light from the projector on the screen. He had not hooked up sound. I think he thought the films were all silent. He then hooked up the sound and ran part of the first reel. I noticed a lot of hiss. It probably would have been better straight out of the projector to a speaker. We went out to the street and walked down hill to the office. He said it was only thirty meters but I'm sure it was easily twice that. The office looked more like an apartment. It had a full kitchen. It had a nice view across the chasm to a huge cathedral. Sebstien said they could not keep the office much longer as the area was getting gentrified and rents were being raised. A woman named Marianne had made a baked cannelloni baked dish that was yummy. There was a citrus flavor in it.  Before serving Sebastien examined it and said it was over cooked. I thought he was being picky. There was also a nice green salad with tomatoes and French red wine. I had brought my computer with me but could not get wifi. In fact I could not get any signal. When I had the computer check that Microsoft told me my wifi was shut off. I tried to fix that and failed. It was irritating. Back at the flat I did get a signal. Back in the lobby I finally got the theater wifi but the code wouldn't work. I gave up.
At show time there weren't many there but when we started at a quarter after the crowd had grown to twenty. After my talk, without a mike, it grew to thirty and might have been forty by the end of the show. I asked for questions at the reel change and got none. I talked more about Monte Carlo and Everything is Rhythm. The show ran smooth. After the show there were still no questions. No one talked to me in the lobby either. I think there was a language barrier. Sebastien gave me 300 francs ($150?) which was fine as we never had discussed financial terms.
March 23
I awoke at 6:45. Without the overcoat I went to the walking street. At the paper stand there were no out off town papers out. I went to the Starbucks. They didn't sell papers but they did have wifi. I got a big cup of coffee in a mug for 4.80 I was surprised there were no emails or facebook action in the 24 hours I had been off line. I sent Anne a somewhat pathetic report and checked news at Washington Monthly. I posted two Betty Carter youtubes on Facebook. The newsstand only had one paper rack out when I got back there. The woman was inside the building putting papers on a second rack. She came back behind the counter. I asked for the International Herald Tribune. She shook her head and looked distressed. I went around to the door to the building, went inside and took the Trib off the rack, and went back around to the counter. I paid her four francs for it. I guess I should have tried to pronounce it in a French way with a La at the front. I went to Tony's and sat in the back. There was a view of the cathedral. I had Cafe au Lait and croissant for five francs.
I went to the flat and got my things and left. I dropped the key in the mailbox. I bought a subway ticket from the machine at street level. I took the elevator down. At the Metro level there were doors instead of an open platform such as in New York. It was more like JFK airport t. When the train appeared the doors opened. The train was packed. The center pole started as a single but branched out to three at hand grasp level. The Metro riders were mostly young and smartly dressed. Station stops were announced. Before the announcement there was noise, which might have been site specific. For Lausanne Flon it was gurgling water. For Lausanne Gare it was a sort of Chinese music.
At the station I followed the mob to street level and came out across the street from the train station. It was 8:20. I bought a pain au chocolate and put it in my backpack. I went to the platform and there wrote a report in long hand. I got on the train. I walked through two cars of first class and took one of the single row seats in the back. I found a plug in and wrote this report finishing before Genchen Nord. It was two hours for the journey to Basel.
I must have been 7/8 of the way to Basel before my ticket was checked. The young conductor, straggly blond hair, whispy beard, looked at it and laughed. His English wasn't perfect but what he told me was that my ticket, as filled out on the train the previous morning, was filled out completely wrong, making it worthless. I asked him in that case could I continue on to Basel and there when I got on the train to Kiel I would explain things to the German conductor? He said that would be fine. I told him I was glad he had gotten some amusement from the whole thing, which he then denied.
My train at Basel was supposed to be on track 9. There I found a train to Koln. I looked on a yellow board and found my train was on platform 9. Based on the trip down where I had observed the end cars near empty and middle cars packed to the gills I hoofed it toward the front. I got on the second car from the end and found an empty compartment. The conductor who came was an attractive young woman. She looked at my ticket, punched it, and handed it back with no comment.
At Karlsruh a young man came into the compartment. He was a first year college student who had been born in State College Ohio to German parents who were attending college there. He had been raised in Germany. He was on his way to Frankfurt to catch a flight to Barcelona. He would have a week vacation there. At the University in Karlsrhuh he was studying economics and engineering. At Mannheim a young couple came into the compartment. I hoped they would also be getting off at the airport but was wrong. The young fellow left and they remained. Also a guy my age came in to take the young man's place. It seemed to be getting colder as we headed north which might have been my imagination. The skies were blue and free of clouds.
Both the man and woman went out in the passageway to make phone calls. I used the now unencumbered by legs exitway to take the long walk to the cafe car, and got a Snickers bar. In my bag was a Newcastle Brown Ale that had I found in the room that morning on the table next to the coffee maker. The beer and the chocolate tasted good together. I closed my eyes to nap. The fellow across read my Trib. He looked like he was from India. When I awoke I got out the computer. I told the guy I was happy he got some use from the Trib. I added that there was a lot of news. He replied that the world had gone crazy.
For general amusement a couple of little tykes ran back anf forth in the passageway. The girl had brown hair and might have been four. The boy had blond hair and was younger than three. They would hit the deck often, cry out in pain, ouch ouch ouch, which would eventually turn into laughter, and then they'd do it over again. It really livened up the ride.
Everyone else got off at Hamburg. The couple left never recognizing me or the the other guy. The other guy left and wished me a pleasant journey.
In Hamburg a woman of my age with brown hair wearing slacks and red sweater came into the compartment. She looked like Viginia Wolfe in a pleasant way. She rode all the way to Kiel. When we got there she cryptically said "You don't want to stay in Kiel." I told her I was just visiting a good friend and that was that. I guess she might have been  looking for a good friend herself.
I walked to the flat and found Karsten there with his friend Joker. It was good to see Karsten. It had been a couple of years at least. He was working on 8mm films on the kitchen table. I was tired from the long day and went to bed at 9:30.
March 24
I got up at 6:45 and found Karsten in the kitchen typing away on his laptop. He said he had to get a grant application in. I made coffee and toast and read the news and got caught up on correspondence. Later in the morning Ruben arrived on a bike. He is another member of Film Group Chaos and had been at my Palenke screening. He would be working with Karsten on their installation for the film festival. That's how I learned that the screening of A Synygogue For Bad Segeberg on Sunday was part of a film festival. I told them I'd help with whatever they were doing. They got busy spray painting gold several large picture frames in the courtyard. That was not painting the frames per se. Spray on foam had been added with objects stuck in to add a Dada touch. One had the fuselage and wing of a WW IIGerman fighter model plane and another a doll's head. There would be white bed sheet material strectched inside the frames. They would be used as screens in the installation. It would consist of projectors, both 8mm and 16mm, putting scenes of Kiel from home movies onto the screens. Slide projectors would also project still images of Kiel.
Karsten said one of the Siemens projectors he planned to use, made of metal, had failed during a test run with black smoke coming out of it. The Siemens projectors were made of metal and are very cool looking and thought to be indistructible. I went through the various Bauer projectors seeing which ones ran film even though the sound didn't work. I pulled out ttwo of those. Around one in the afternoon we loaded all the gear into the car. That included one frame so big it had to be roped to the roof. There were around a dozen 8mm projectors, three 16mm projectors and a bunch of slide projectors, plus all kinds of stuff to support the effort including various pieces of wood. It all fit in the VW and still left one seat in the back for me.
We drove to Die Pumpe and parked around the back. With three of us it didn't take long to get all the stuff inside. Then it was mostly head scratching time to figure out what went where. The theater, restaurant, bar and gallery that collectively is called Die Pumpe was once the pump house for the whole city. On the ground floor, in the middle of the big bar and restaurant, is the old main pump. It has a colossal l electric motor at one end that is at least six feet high. That drives by belt a huge fly wheel. The belt is two feet across and the fly wheel around fifteen feet tall. There is another five feet below floor level. The fly wheel drives two ten foot long piston arms that go into two ten foot tall collectors. The collectors look like boilers in a steam heating plant. Everything is finished in stainless steel or painted gray. It must have weighed several tons. All in all it looks like an exotic device you could somehow used to make a large amount of beer. The equipment is in working order and is run occasionally. It is kept from spontaneously springing to life at some inopertune moment through power serge or other odd phenomenon by the removal of brushes from the motor.
Since the hauling in was done I was no longer needed. I went out for a walk in the sunshine. I was looking for peanuts in the shell. I found a peculier store, a German form of a Dollar Tree, which had a mish mash of stuff, but no peanuts. I had made a circuit of the area, getting grit in my eye from dust from the knocking down of an big old concrete building, when I ran into Elisabeth. She was on her way to Die Pumpe for some event. She told me that in America she had seen 99cent stores and never thought such a thing could ever appear in Germany. I walked back to Die Pumpe with her. I found Karsten giving directions and Ruben climbing around the machinery. They still didn't need me. I went to the event in the upstairs theater. It was a presentation and workshop on digital distribution of films through the company First Motion which included The Baltic Universe. Two guys, one from Germany and the other from Norway, were doing the presentation. The German started and asked if anyone wanted it in English. I said I did. I should have stopped there but continued it would be nice in American. I then said I was the interloper and German was fine, which it was. I could follow the demonstration because it included a power point demonstration that was in English. The Norwegian man then demonstrated the website. He started in German but gave up as his English was better. The website was in English. The Baltic Universe were the countries connected by the Baltic Sea including Germany, Denmark, Sweden, Latvia, Estonia and some others, but not Finland. First Motion helps in making both short films feature length projects. A couple of clips were shown of completed works. One was by the small Swedish animation company Larger Than Live that found a cheaper way to do computer stop motion. Their clip was a scene between a space jockey pilot and an android sort of guy in conversation as they walked through a spaceport hanger. The writing was uninspired. The other demonstration was from a project called 15 Young by Young. That would be works from the former members of the Soviet Union that were now Republics. Two cartoons were shown based on a request for stories from the Soviet days. One was about bomb drills which included gas masks in the 1970's and the other about the status symbol of eating a banana. The animation was similar in both. Both were more interesting than the Larger Than Live clip, which I would guess was because they started with story first instead of technology. Then a local film maker, Stefan Gieren, gave a talk about his completed feature Superhero Blog that was helped by funding through First Motion. The first ten minutes of it was shown. It was about a young geeky guy who went to New York to study to be a super hero. It looked like it could be amusing. A short Q and A followed but was cut short by the need for the theater to be emptied for the next show.
Right after that was a meet and greet for film makers that included refreshments. There was plenty of wine and beer. There was also a tasty vegtable soup, but no bread. I was told the bread had gotten burned. Karsten and Ruben joined in the scrum. Then we went back downstairs and worked on the installation till nine. We then called it a day. Back at the house we each had a beer and then Ruben pedaled off and I went to bed.
March 25
I got up at 7:00 and Karsten appeared later. The installation would go live that evening when the festival started at 7:30. That allowed a leisurely breakfast before getting to work. I decided to recheck the Bauer projectors to see if one more might be usable. I really didn't trust the one ancient Siemens that Karsten particularly liked for it aesthetic appeal. His telling me other had gone up in smoke might have colored my oppinion. The Bauers looked modern by our standards, for anyone else they would look exotic. I found one that ran fine. I set it up and let it run to see if had endurance. It quit after an hour. Too bad. We drove over to the Die Pumpe. Ruben would not be there. He had a job and two kids. We worked on the finishing touches of the intallation which mostly was putting the loops into the projectors. I guess some explanation here is needed. Projectors normally run film from a feed reel to take up reel. For this sort of installation you don't use reels. You select a few feet of film and load it through the projector and then splice the ends to form a loop. When it runs the the film just flops along finding its own route and as long as it doesn't hang up on something will run for hours that way.
For Karsten's plan we ended up with a surplus16mm projector. That is because Karsten is primarily interested in 8mm. I became intrigued by the idea of projecting directly onto the equipment instead of onto a frame. I found a spot about two feet square that would take an image. I got a loop going on it. I then noticed a round surface nearby. I was an empty clock face on its own metel stand. It had probably once been a gauge. Now it was an inscrutable gray face set slightly inside a round frame a little smaller than a dinner plate. I put the loop image on it and it looked cool. It was a 70's scene of a parade where a float sponsored by Autoland passes by with girls throwing candy to the crowd. A matronly lady walks out to the float to have some handed to her. Younger people scramble for what has fallen on the pavement. One girl is wearing a red and white cheer leader outfit. Karsten liked the idea but thought 16mm was overkill for such a small screen. He put an 8mm projector in its place and said we could keep the 16mm aside in case anything else in the installation failed completely. The 8mm loop had three scenes. One was a family posing for a picture in front of a house with a kid running in to join. That 8mm projector didn't run well in forward but did fine in reverse. Now the young kid jumped backwards away from the goup. With the less bright 8mm light there was an eerie quality as though the people looking out were somehow trapped in the machine.
It was now about five in the afternoon. Claudia Schmidt appeared and asked if we were hungry. She works for the Kiel Film Workshop and was also on the festival team. I had met her previously. The restaurant had set up long tables on the far side of the machinary for the opening night party and had brought in food, beer and wine. Claudia dished up soup for us and we ate at a big round table in the back. Claudia asked me if I had a driver's license. I thought that odd, but said sure, although I didn't know if an Oregon driver's licence was good in Germany. She guessed it was. I then found out that Karsten would be going back to Breman the next day and I would be in charge of the installation for the next two nights and also be in charge of dismantling it and taking it back to the house. Claudia was volunteering her car for that job. She warned me that sometimes her car, a VW Golf Combi, didn't like to start but she doubted it would happen on our short errand. I said that was fine and that made everyone happy. The other plan would have been taking down the installation and storing all the stuff somewhere on the premises until Karsten could come get it later.
At 7:00 the doors were opened and we fired up the projectors. The installation involved 3 8mm projectors, 2 16mm projectors, two fixed slide projectors, and one carousel projector. The number one 16mm had a scene of a parade with a group of marching men. One takes a drink out of a beer bottle as the group passes. That screen was at the top of the big fly wheel. An 8m projector was also projecting onto the corner of that screen a scene at an outdoor swimming pool. The number two 16mm had black and white footage of a man, and then a woman, being interviewed on the street. That screen was in the back between the two big holding tanks. The carousel projector was back projecting onto a screen resting on the big belt that ran from the motor over the fly wheeel. It put the slide images right where everyone passed by on the way into the auditorium. It had 72 slides which advanced automatically every five seconds.
I was given a festival badge. At 7:30 we all went into the auditorium for the opening night film. The auditorium was a big multi-purpose room. It was not quite the size of an airplane hanger. There was tiered seating on risers with indivdiual Eames chairs with thinly padded seats. There was seating for more than two hundred. All screenings would be digital onto a screen about thirty feet wide. In front of that was a stage which had a podium in the middle and was flanked on each side by big baskets of hydrangea flowers on pedestal stands. Before film rolled there were speeches. Everything was in German. Bernd-Gunther Nahm was the master of ceremonies and spoke first. He was a nice man with gray hair and a ready smile who was in charge of the Kiel film workshop and who would be retiring this year. He then then gave the podium to the owner of Die Pumpe, an affable man who up to then I had thought was just a guy hanging out who really liked the installation. The next speaker was the governor of Shleswig-Holstein. I don't understand German but I can recognize a stem winder speech from a politician when I hear one. He really talked a long time. I think he mentioned every film in the festival. He was followed by a woman who was the Mayor of Kiel. Karsten was seated beside me and whispered that she spoke German with a Danish accent. Yes, it was noticeable, although I probably would have thought it Swedish if not set right. She was wearing a sedately wild jacket that looked like it had magicians symbols on it for decoration.It reminded me of a wild sportcoat Ian Whitcomb wore in the seventies when performing. She also gave a lengthy talk and also seemed to mention many specific films. She was followed by another woman, this one head of a government arts council for Schleswig-Holstein. She didn't speak as long as the others. She was wearing a skirt made of similar material to that of the previous speaker's jacket. Magic symbols on maroon cloth must be the in thing this spring.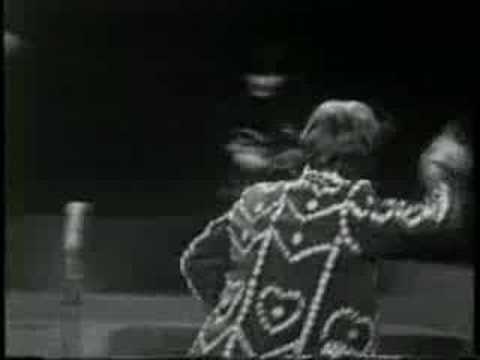 At last the lights dimmed and the opening film rolled. It was a short called Zero Action, which was exactly what happened. It really was a curious thing. The music was obviously from an LP, and not one in pristine condition, The film was all unconnected shots, most used more than once, of the moon, a jelly fish swimming, a white horse, a stormy night, a house in a forest, the sea, and a pretty girl reading a book. There was no plot. It might have once been called a "Tone Poem." Thankfully it was just five minutes long. It brought to mind the National Film Board anti-smoking film Ashes of Doom except it had no resolution or punch line. If it had had some wit and humor it might have been like George Kuchar's Wild Night at El Reno. What it was, was a puzzlement. I sure hoped it wasn't an example of the best of the festival. The film maker was brought on stage. He was a 70 year old man and sort of the grand old man of Kiel film making. He unapologetically considered his film art and if you didn't care for it that was your loss. Or at least that how Karsten translated it for me.
The film that followed was a documentary feature about a man named Paul Gratzik who had been an artist and writer, who was also involved in German theater, and all the time had been a spy for the Staatsi. He had only recently come out in the open and confessed his secrets. The film maker had interviewed him at length and also many who had been involved with him who had no idea he was spying on them. Even in German, with an occasional Karsten translation of pertinent info, it was enjoyable. It was a very well made film. The title was Vaterlandsverrater, or Traitor to the Home Land.
After that it was time to have soup and bread and cheese. The soup, at least the non-vegetarian one I had ,was a white chowder with sausage. Added from the side were tiny little crabs. It was very tasty. The dessert was a sort of cherry jam with heavy cream. That too was good. There was also Becks Beer. We stayed to keep the installation going until most people had left. The only glitch was that the Siemens projector was running hot and blew out a lamp after a few hours running. There were only two more spares for it. Everything worked when it was cranked up at 7:00 and was still working when we shut it down at midnight.  Then it was the drive home and sleep, to knit up the ravell'd sleeve of care.