Some foreshadowing here if you haven't read yesterday's report. First of all, in case you haven't noticed, I don't speak German. In Kiel I discovered that the Sunday screening of A Synagogue For Bad Segeberg, of which I did the English subtitles and English DVD covers and etc., was part of the Filmfest Schleswig Holstein. I also found that Karsten and Film Groupe Chaos would be doing an installation for the festival in the big room of Die Pumpe which was festival headquarters. I helped with the installation which consisted of two 16mm projectors, three 8mm projectors, two fixed (single image) slide projectors, and one carousel slide projector, all projecting vintage images of Kiel on the machinery left from the old pumping station for the whole city, which now resided on the ground floor of a multipurpose cultural center. Here we start in the morning after the opening night of the festival.
March 26Â  Kiel, Germany
I got up at 6:45 and had the kitchen to myself for a couple of hours of drinking coffee and perusing the news and introspective existential thinking. Around nine I decided to work on a blog post. I had neglected that for several days. I worked on it diligently, deciding on posting four days worth of reports in hopes of getting caught up to date in a couple of days, but didn't have it ready to post before it was time to go to Die Pumpe for the three o'clock opening and 4:00pm screening. Karsten spent the late morning and early afternoon working on more 16mm film loops for the installation in case the ones in use got chewed up. When we arrived at Die Pumpe the room was locked up but soon a man appeared who let us in. I had seen the man around the place. He was youngish, above average height, with a bald head ,and a solid build. Karsten's plan was to see that things started right and then drive to Bremen, leaving me in charge of the Medusa's head sort of construction.
Things did go well but he decided there should be more variety for the fixed slides so he said he would go home and then come back with the slides on his way out of town. I could then put new slides in ever couple of hours. I asked him to also bring beer as there was no sign of tables being set up for another free feed. At four I went into the auditorium to watch Last Exit to Nickelsville and Jimi- Das Fehmarn-Festival. The first was a 16 minute doc ( I first read that as a 16mm doc, and was disappointed when I found it was just the running time) about a sort of Hooverville in Seattle that the residents named Nickelsville after mayor Greg Nickels. The second was a doc about a yearly Jimi Hendrix music festival that is in the nearby town of Fehmarn where Jimi had himself played a concert in 1970 two weeks before he died. I really enjoyed it, especially the footage of Jimi playing, which I had never seen. The original concert was held in terrible weather and included footage of driving rain and people huddled under tarps. Hendrix performed about twenty songs. Interspersed were scenes from the more recent festivals on the same site. Several times during the presentation I popped out to check the installation.
About half way through I came out and found Karsten had come back and was ready to go. He had left the slides and beer in our storage space for this and that which was sort of in the middle of the machinery. He also said he had put the last spare lamp in the Siemens projector. One nice thing about the Siemens projector was that it was so old it had no auto load capability and was a snap to load and unload. A drawback was the projection lamps for it were no longer manufactured. Just before he left the loop in the front Bauer autoload 16mm projector, sitting on the big motor, held in place with webbed belting, chewed up the loop. The replacement loop didn't want to load and I finally had to give up on the auto-load and load it manually, which is next to impossible unless you do it all the time. The new loop was shorter than the old one. On that projector we had attached with duct tape a slim pole and taped a wire loop to the end of the pole to add length to the film path, so that the film wouldn't drag on the floor. With the new loop I had to move the wire loop down the pole a couple of feet. I finally got that finished just as the feature let out. The new loop was in black and white of a boy in a swim suit putting flippers on his feet before diving into the pool and swimming. I had learned recently that the pool shown had been closed for many years and would soon be turned into an artists collective.
I talked to one of the directors of the Jimi Hendrix film who was talking to Elisabeth Saggau. I asked him if the Hendrix family had come after him about rights for the music in the film. He said all of the music was owned by Geffen but that might be just for Europe. I told him of the family complaining about my showing in Seattle a three minute film Jimi was in, a sort of pre-MTV rock video from 1969, with their claim that they owned everything he ever appeared in. He told me he hoped to work something out with them for US screenings. I told him I had never seen the footage before. He said it had never been seen. Apparently the promoters of the event had filmed the whole thing with the idea of releasing a film version but never got it done. Elisabeth said she had known the promoters and all of them had gone broke putting on the concert, at least one of them ending up a ruined and bitter man. I talked to Bernd-Gunther and found that he had been at Fehmarn and had seen Jimi Hendrix there in 1970. Wow!
With everything working I walked to the Subway Sandwich Shop around the corner and got a hoagie to go and ate at a table next to the number 2 16mm. I then went in to watch the 8:30 show of shorts. The guy introducing the show was the same young bald solid guy who had let us into the locked big room that morning. I would never have guessed from just talking to him what an entertaining guy he could be in front of a crowd. He looked comfortable, with just a little edgy nervousness to add frisson, and got a lot of laughs. All of the films were worth watching but none really stood out. After each one I would go out and check the installation while the film makers Q and A with took place in German on the stage. About the forth time out I found the last lamp had failed in the Siemens projector. I replaced it with the spare Bauer projector that had a loop in it already. I got that done in time to see the start of the next film. Before the next to last film I came out and noticed a really bad white scratch down the center of loop of the swimming boy with flippers in the the number one 16mm. When I had moved the wire loop down the pole I reused the tape and didn't notice it left the end of the wire sticking out the bottom. The film had dragged over the end of the wire, scratching it. Since that projector didn't like to load it took me the whole short film to get another loop going. It was the shortened version of the marching men with the one guy drinking beer. I was able to go in and see the last film in the program  Heartwork by Nils Struven . The next day I found that the one film I missed had won the top prize in the festival.
There was no repast after the show so most of the crowd didn't linger. The 8mm loop on the round face broke so I spliced it. Even that was a chore since I have never worked much with 8mm which uses press tape splices instead of the guillotine splicers I am used to. The loop on the number two 16mm broke and I replaced it with a black and white loop of 1950s men pole vaulting at night under the lights. I waited till there were just a few in for the long time stragglers left before shutting everything down and walking home. I took a dead reckoning way, instead of the longer way via the railroad station, and came to the big road that looked like the one that connects Luther Street, where Karsten's house is, to Palenke. At least I thought it was the same street. It also looked like a street way across town. To make sure I went into a Shell Station and looked at the map. The kid working there helped, which really saved time. He knew where on the map the Shell station was. Yes, I was on the right road. I felt I should buy something as appreciation for the info. Next to the cash register Mars bars were on special two for a Euro. I bought a pair and ate them as I walked. I thought about Mars Bars as they were when I first tasted them. Then they came in a distinctive green wrapper. The bar itself was flatter with two almonds that made bumps in the surface. They had a distinctive, not just sweet, flavor. Now the wrapper was brown and the bar was square. The flavor is more sweet, not much different from a Milky Way bar. I wondered why they changed it. I guessed that sweet tested better than distinctive and square is more appealing than flat and bumpy. I wonder if they still make the oddly shaped and peculiarly flavored Idaho Spud bar, a favorite of my dad. I got home around eleven.
March 27
I got up at 6:45 but since it was Day Light Savings day the clock said it was now 7:45. Again I had the house to myself. I took my time over coffee and then worked on the blog report which would be titled Four Days at a Whack. I finally got it finished and posted it. Just puttering around and taking a bath got me to 2:30 when I realized with the longer walk I'd better skedaddle. Since A Synagogue For Bad Segeberg would play that day at 4:00 I put on a neck tie and took along my black leather dress shoes. Before leaving I found a pile of 16mm film on the floor by the bathroom door. I pulled out a long piece and put it in my pocket. We had gone through Karsten's loops and I thought it might be useful.
It was sunny day with blue skies and a very pleasant walk. I took the return walk more or less that had got me home the night before. When I arrived a crowd was already milling around in the big room. I got the installation fired up. The mood of the crowd was great. Part of that might have been the sense that Spring had finally arrived. It was also because much of the crowd were either people who had appeared in the documentary, people who had worked on the documentary, or friends and family of those people. With everyone seated the place was nearly full. After short opening remarks the film started. After half an hour I went out to check the installation.
Both of the 16mm's had chewed up their loops. I got the back one, the replacement for the Siemens, going first. It now had a very short loop of black and white flying seagulls. For the number one projector I had to get all the film pieces out of the projector and I then loaded in the film I had found next to the bathroom door. It was of young woman's swimming team at the old pool. Climbing up on the motor wearing the leather soled dress shoes was fraught with peril. I was just finishing when Bernd-Gunther came out and said I was needed on stage. That was nice but not necessary. I hadn't done anything for the film that was shown. My only contribution was for the English language DVD which they did have for sale. On stage were Ullie, Elisabeth, Moses, and a bunch of the crew who I had never met. They then brought up people who had appeared in the doc. Ullie than said a few words, one question was taken from the audience, Ullie spoke again, and that was it
They were again setting up the tables for food so I didn't go to Subway again. I went in to watch the 6:00 show. The first film was Rancho Texas with Charles Bronson. That's not exactly right. It was a day in the life of a Charles Bronson look a like who worked at a German fake wild west theme park called Rancho Texas. To me the German interest in the old American west and cowboys and Indians is deeply weird. It all goes back to the German writer Karl May, whose books were favorites of Hitler. When I came out the number two 16mm projector had stopped, the loop on the 8mm onto the round face had broken and a third 8mm that had presented no problems till then had the lamp go out. I first spliced the round face 8mm. I then worked on the 16mm. It wouldn't load and I eventually had to take it over to the corner where there was a floor lamp to see that a tremendous amount of dirt had built up in the rails of the aperture gate making it hard for the film to advance I got it going again. Now it had black and white footage of a guy getting his chest measured with a cloth tape by a doctor. Karsten had shown me that when the lamp goes out in an 8mm projector it is almost never that the lamp needs to be replaced. What needs to be done is the lamp has to be taken out and its contacts cleaned, which have been building up crud while lit. I had cleaned the contacts in that projector twice before. This time the lamp didn't want to light at all so I gave up and took it off line. There was another 8mm waiting that would replace it. That one didn't want to light either. I considered that a sign and gave up that station completely. It had been the last projector installed and was the least crucial to the whole operation. The whole installation would be disassembled in an hour anyway.
Ruben showed up. That was a surprise. I had thought I would have to tear down the installation myself. I hadn't looked forward to getting the big screen down from the top of the fly wheel. The demolition work would start as soon as the 8:00 show was seated. That would be award winners for the festival. We had about half and hour to wait. I took two Becks beers from the big cooler set up for the crowd after the show and we sat in the corner by the floor lamp to talk. World events were the topic with the nuclear reactor problem in Japan being first up. From there we got into Monty Python's Flying Circus. Ruben told me that when he was growing up they were routinely shown on German television, That amazed me. That would have been about twenty years after they had been made. He said they had given him a sense there was a bigger world outside of Germany with different standards of what was funny. I asked him if The Firesign Theater had also made it to Germany. Nope, them he had never heard of.
With Ruben tackling the screens and me tackling the projectors we had everything in Claudia's car in a jiffy. The drive to Karsten's was uneventful. It was good that Ruben knew the most direct way. It was the first time I had driven a car in Europe. It was also the first time I'd driven a stick shift in at least ten years. We dumped all the stuff in the Arab room. We were looking forward to getting back for the food. When we were ready to leave the car wouldn't start. It cranked over just fine but there was no ignition. I wondered if it was a sort of diesel equivalent to vapor lock. That could be cured by waiting a few minutes unless it was a real hot day, which today was certainly not. I went in and used the toilet. Ruben had a cigarette. After that it started just fine. We got back to Die Pumpe before 9:30. The crowd had still not exited the auditorium. I took two more beers from the cooler for Ruben and me.
Everyone exiting the auditorium seemed in a good mood. For me it was pleasant to not be fretting about the installation. The food was a disappointment. It was supposed to be a repeat of Friday, except the soup had spoiled and had been taken away. That left just the accoutrement to soup, which was bread, cheese, little crabs, and the cherry jam and cream for dessert. I made the best of it. I then walked home and got there without having to ask for directions.
March 28
I had set the alarm for five and when it alerted me I got up. That allowed me my normal coffee, toast and New York Times time but little time for existential introspection. It didn't take much time to pack. I would not be back in Kiel until after Bern, Düsseldorf and Hamburg. I put all the films in the suitcase with my clean clothes, all my dirty clothes into the backpack, the computer and all papers in the Coach bag, and was ready to go. I left at 6:40am. It was still dark. At the station I was ten minutes early for the train waiting at platform 3 and was able to buy a Trib in the news shop. Sometimes it isn't out that early. This was the same train as the one to Lausanne. This time I would be using my rail pass. It was a long walk on the platform past the eight cars of second class and the Bistro car. I climbed up in the first first class car and was entering a compartment when the conductor told me it was reserved was for a family with kids. I left the suitcase there and found a compartment in the second first class car. That compartment only had reservations listed for Hamburg to Frankfurt and also Hanover to Mannheim, which meant I might be alone for most of the journey. I then went back for my suitcase, but took it outside and around on the platform to get to my seat, as the car I had walked through three times already was filling up.
At Hamburg a man came in and took a chair opposite. I assumed that was the reservation for Frankfurt. That was wrong. He was just an interloper who got off at Gottingen. The reservation at Hannover was a blond woman with brown eyes who resembled Martina Natrilova. She was wearing black tights, a gray short skirt and matching shirt/jacket. with lots of pockets and zippers, on both the skirt and jacket, the outfit having a sort of army surplus effect. Or maybe it was more of a fighter pilot inspired sort of suit. She immediately went to sleep. At Kassel-Wilhelmshoe a woman with black hair came in. She was wearing a striped dress shirt with gray pullover sweater and blue jeans. She opened a book and began to read.
On three occasions a man came in and tossed in packets of Brandt Knusper Kugeln candy onto the table. They looked like small malted milk balls but were flavored with marzipan. The forth time he came in I asked him if he had anything different. He said at 4:00 there would be a change from candy to nuts. At that time I would finally be changing trains in Basel. Three times a man came in with free German newspapers. My ticket was examined twice. On several occasions a woman with coffee on a tray came by. There is nothing like this bother in 2nd class. After Frankfurt I went to the diner car and got the special of croissant and cafe au lait. The man asked me if I spoke French. I told him no but that it would be good if Americans knew more than one language. He said that was no longer needed as English was now the common language uniting all others. That was so different than when I first came to Europe nearly twenty years ago. Back then I would occasionally have to dredge up the very little German or French I knew in order to get what I wanted on a train with out pointing at stuff on the menu.
The blond woman got off at Mannheim. She said goodbye, which both the black haired woman and I replied to. I then got into a conversation with the black haired woman. She was concert pianist originally from Romania on her way to Zürich to visit friends. The book she was reading was an Edgar Wallace omnibus. Wow, I had no idea he was even in print, much less in a language other than English. He was a prolific writer starting in the late 19th century of tales of crime and adventure. The candy man came back with peanuts especially for me and tossed several packets on the table.
I told the black haired woman, who told me her name was Luiza, about the piano players in my Jitterbug show. She said she would be in Hamburg at the end of the month and would try to get her friends to come to the show. One reason I like talking to people when I travel in foreign countries is they will sometimes provide points of view I would never think of. Both the woman from Riga in the cab to the airport in Tampere, and the young man on the train going to the Frankfurt airport for a vacation in Spain were amazed that the majority of Americans did not posses passports. To them a passport was like a Social Security Card is to us. The idea that a person could walk around with no identification at all just blows the minds of Europeans. Louisa was surprised that when she would go to the cinema she was seeing 35mm motion pictures that were visually no different than motion pictures a hundred years ago,35mm film at 24 frames per second. It is surprising to consider that with all of the amazing advances that have recently been made with computers and the world wide web that much of what we do, whether it is driving a car with an internal combustion engine, or flying in a fixed wing airplane, or riding on train, or going to the movies uses technology from no later than the beginning of the 20th century
After eight hours on the train it arrived in Basel where I got off and walked across the platform to the train to Bern waiting there. When I showed my ticket to the conductor he asked for my passport. I told him that was a first, meaning normally the Eurail pass is accepted at face value. He replied it was common at border crossings. Hmm, maybe across the border to Switzerland, or I suppose crossing into other countries that are not part of the Eurozone.
When I got off the train in Bern I turned the correct way and hadn't walked far when Mani approached coming the opposite way. It was great to see him, although this time it had only been since November when I had last been in Bern. Usually it is a year between my trips to Europe. He looked just the same, like Tin Tin, although he no longer had the blond spit curl in the front to cement the impersonation. We walked to where his bike was parked and then across the bridge to his flat. The warm sunshine was markedly different from the last time I was here when instead of rolling my bag behind me we had put it on his bike so it would not be wading through the melting snow and possibly corrupting the films inside.
It was almost five when we got there. That left just enough time for me to take a shower and put on my last clean outfit, and sit down for a quick dinner of stir fried Thai vegetables, salad of greens, hard boiled eggs, and vinegar; before we headed for the Lichtspiel, driving there in a Mobility Smart Car that we retrieved from the spooky, in a Spy That Came in from the Cold sort of way, underground car park at the bottom of the hill.
A crowd of around forty, a little less than usual for my shows at Lichtspiel, came to the show. I gave a better than average introduction, remembering to mention the Louise Brooks angle, and got what seemed to be a very appreciative hand of applause. There was a fifteen minute break for the reel change. I talked to several people who said they were very much enjoying the show. It really is one my most crowd pleasing creations. I addressed the crowd again before rolling reel two. I also gave some closing remarks at the end of the show, remembering to fill them in on Peggy Hopkins Joyce.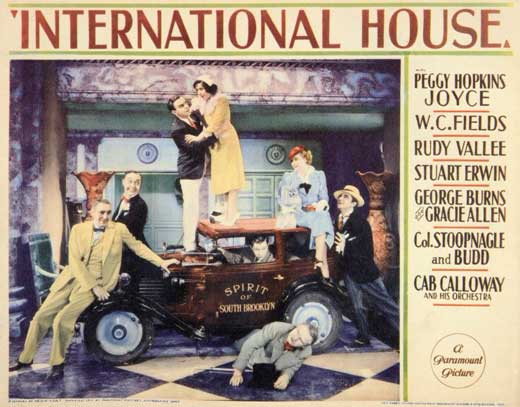 March 29
Mani was already gone when I got up at 8:00am. I made coffee and read yesterday's Trib. I then worked on getting my journal up to date. When I had what I considered a ready to add links to blog post for March 22-25, meaning one more four day report would catch me up, I left the flat. I wore the top coat but not the sport coat just to give it a rest. It was a sunny day. I crossed the bridge and then walked down the main shopping street looking for a Starbucks. I didn't need the coffee but I did need the wifi. It took a while but I found one. It was kind of in the middle of a plaza and doing a great business. I could not use my Starbucks card there. They did have a better selection of bagels then on the west coast of America. I got a cinnamon raisin. They did not have butter. They did also not have drip coffee ready. Prices were higher than in the US. The bagel was about two bucks and came out soggy from the microwave. The wifi was limited to an hour. I used all of that and still didn't have the post ready. Trying to think of art and then finding it and posting it can take a lot of time. When my time was up it did allow me to re-up. I should have read the fine print. What I think was I was given ten more minutes to conclude whatever I was doing with losing data This time I did did not get a re-up chance. Luckily, WordPress automatically saves stuff. I left and went looking for a cafe with free wifi. I walked all over without finding one. I was surprised by just how many people were out on the streets. The sidewalks of the shopping streets were packed on this Tuesday afternoon. It was like it was in America when I was little. I asked a group of four young women in front of a hip looking cafe on a side street if it had free wifi. Only one spoke English. From them I found that in Europe Wifi is called Wireless and you don't find it in cafes for free. They directed me to an internet cafe. I was able to find it. It did not have wireless. It did have computers that cost one Franc for six minutes or ten Francs for an hour. I got the report posted within 6 minutes. That was with some misspellings. On the computer half of what I wrote came up as misspelled so finding my actual miscreant words was hard. I didn't get a post on Facebook announcing it. For the extra Franc I did put up the facebook post and then quit.
Mani had told me he wouldn't be in until ten at night. I went looking for a grocery store to buy something for dinner. I asked a couple of civil servants wearing name tags and taking a smoke break for directions. They said there were two grocery stores in the train station. I asked if that meant with fresh fruits and vegetables and they said yes. In the upstairs of the station I found a Migros store. My first thought was fixings for a Joe's Special but the ground beef looked suspect. I then considered a take home to cook pizza. I then thought about a Greek salad. I found cherry tomatoes, cucumbers and feta cheese, all very cheap. I assumed Mani would have oregano and olive oil. I then looked for a steak. I couldn't find one. I guess the T Bone steak is an American invention. I looked at pate but it was all pre-packaged. There was no meat counter in Migros, just wrapped and ready meats. I finally decided that a can of sardines would go well with a Greek salad. They did not sell wine at Migros. The clerk directed me to the wine shop just across the way. There I got a seven dollar bottle of Cabernet and hoped for the best. The clerk wrapped the bottle in paper. I jokingly asked if the paper would keep it from breaking if I dropped it on the sidewalk. The clerk gave me perplexed look. I told him to forget it. That further perplexed him. I then told him it was just a joke. He then asked me if I wanted it in a bag. I said no and left. It was now so nice out I could have gotten by without a coat. I bought a Trib at the station and went home.
In the kitchen found I was wrong about Mani having oregano. He did have three types of paprika. I used a mixed seasoning in a plastic bag labeled fisch krauter. It contained Salbei, Rosmarin, Marjoran, Thymian, Basilkum, and Lorbeer. The salad tasted good, but sweeter than usual. The sardines were huge but tasted good.
I worked on this blog post until 10:30 and then went to bed.