April 14
My last day in Manchester would be busy. I had a noon show scheduled at Bolton University in the nearby town of Bolton. I had an 8:00 show at the Lass O'Gowrie Pub. For the Bolton show John rented a car. We were to leave at 10:00am. I got up at 7:45 and spent an hour and a half at Starbucks but being generally bummed about Fiona and her fractured breastbone I didn't write anything. I just read the news on line. When I got back to the house at 9:30 there was a small Ford van parked in front of the house that writing all over it announcing it was an affordable rental car. Inside the house John was signing documents with the rental car company man who had delivered the car. I took a shower and put on a necktie.
We left shortly after 10:00. First we had to go to the post office where John sent out some packages. Our next stop would be the Green Room to collect the projector. Oops, we had to go back home for John to pick up an email that had instructions for us once we got to Bolton. We then went to the Green Room. It was well past 10:30 when we were finally on the way out of town. John gave me several sheets of papers with maps to the campus.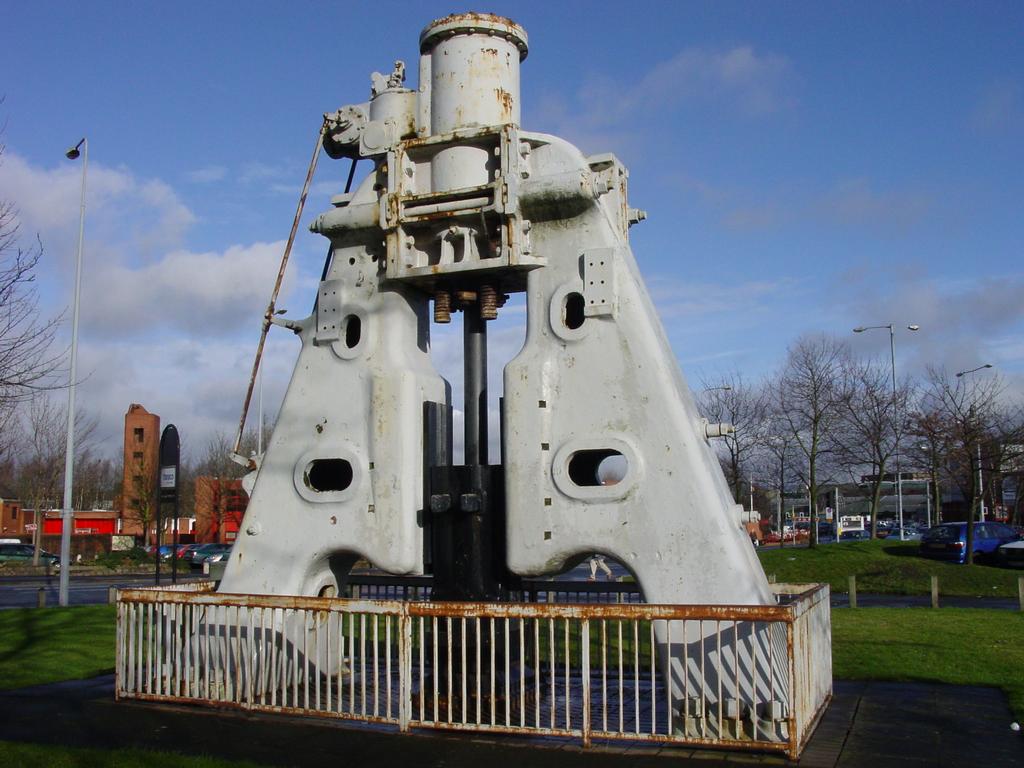 Getting to the city of Bolton was easy. We just followed signs. Once there finding the University was harder. The city streets didn't seem to have much signage. After driving around a while John called Jason, the tech guy at the college. He gave directions to John that still didn't help. John called back and put me on the line. I found we were darned close. We were to park near a big metal thing that I had noticed and described to Jason. He told me it was an old Steam Hammer. It took us three trips around the block before we finally found the entry to lot. We passed it previously because it had a gate. Jason said if we told the attendant what were doing we would be let in. Sure enough, that worked. We finally parked at 20 till 12:00. I went to look at the Steam Hammer. It was a very cool thing that looked like a king size, maybe 25 feet tall, Gutenberg press. The plaque said with a 1917 Nasmyth and Wilson steam hammer that was the last still making wrought iron in the old puddling process when it it was retired in 1975.
We walked into what I would have called a Student Union building. It had a cafeteria in it among other things. John found Jason and they went to the van with a cart to get the stuff. We then took an elevator up a couple of flights and went into a theatrical room. It had a screen at the front and dozens of spot lights and stuff hanging from light bars across the ceiling. 70 seats were set up. I found a rolling table to put the projector on. John got patched into the house audio system with Jason's help. We were ready to roll at noon. That is one of the great things about 16mm, its ability to be portable and fast to set up. The waiting crowd came in and filled up most of the seats. A woman with black curly hair with a sort of Susan Sontag flash of gray at the crown introduced herself to me. She looked like my old friend from Seattle Donna McAlister. Her name was Chaz. She had arranged all the students who showed up.
Originally they had wanted half of Subversive Animation and Half of Effect of Dada. I said that if we started on time we could fit in half of subversive and all of Dada. Chaz gave me a short introduction and we got rolling. We also fit it into the 2 hour slot. Most of the crowd stayed for the extra time and also the Q and A. It was a good group that asked good questions, but none that broke any new ground.
While I broke down the equipment John got directions from Jason on how we could get back to the freeway. Those directions worked.  They took us by church that had what looked like dozens of spiked spires and then to the freeway that got us back to Manchester by 3:00.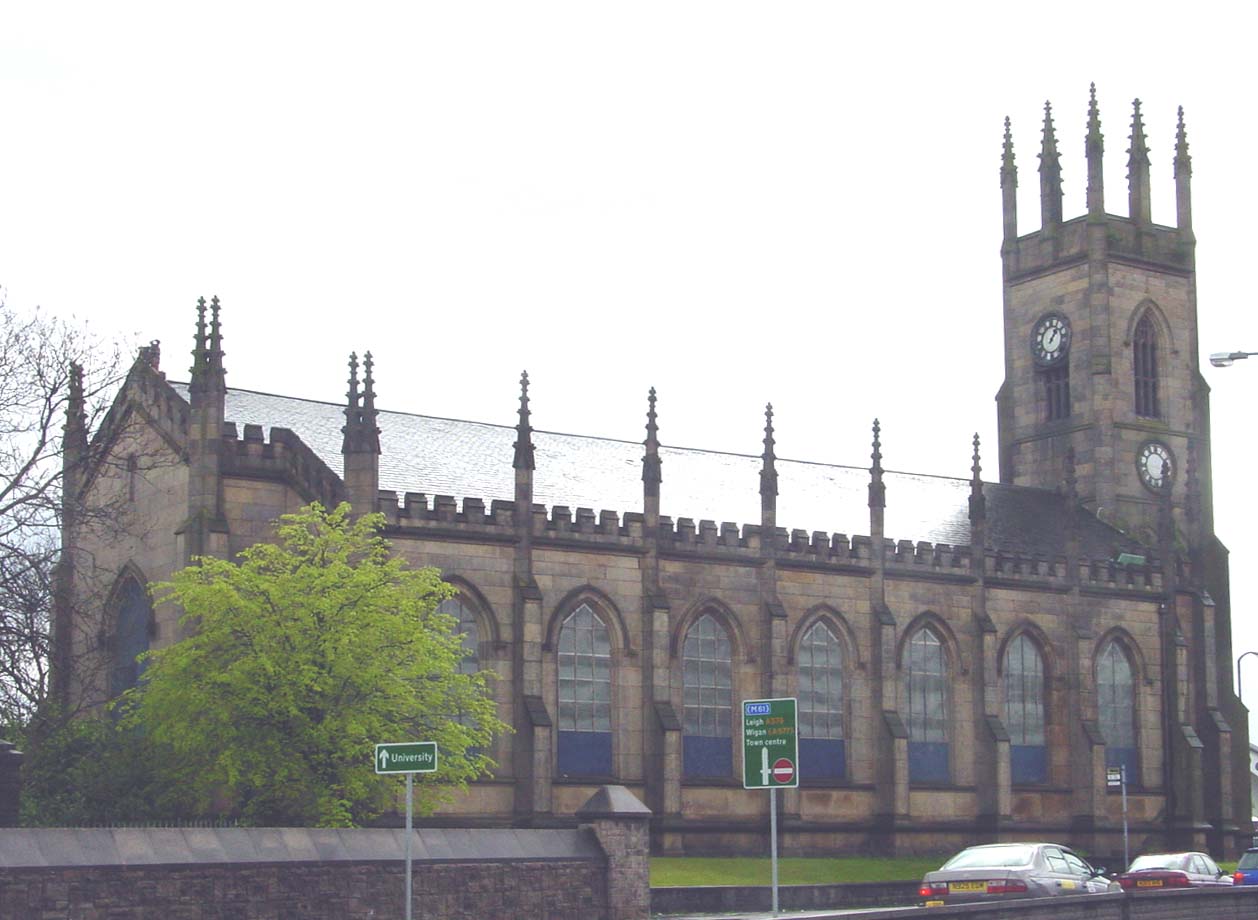 John drove to the Imperial War Museum.
He had previously mentioned I should see it. It was tricky to get to. It was a big shiny metal building, easy to see from a mile away, but on a spit of a body of water. We finally had to ask a woman stopped at a light with two kids in car seats in the back. She gave us very good directions that she repeated just to make sure we got them right. That got us to the place. There the parking attendant waived the four pound fee for parking in the close lot when John said we were only staying for half an hour. Inside we found the museum itself was free. The only charge was for watching stuff in the movie theater.
It was a nice enough museum. It had a lot of stuff mostly covering war in the 20th Century. I was hoping there'd be stuff on the crusades. We spent about an hour there. We then drove to the Lass O'Gowrie and set up the projector for the show that evening. We used the JVC lens that Mark Bodner had loaned us to make the picture bigger. John taped it to the base lens. We then drove home. John said the little Ford truck with its diesel engine got great mileage. At home we only stayed for a little over an hour. John had the idea we could eat at a curry joint before going to the pub. That didn't figure in my anathema to hot, as in spicy hot, food. Instead we went to Lass O'Gowrie where I had a steak and ale pie with chips. Oooh, it was tasty. It was a not an individual pie, like a chicken pot pie, but a slice of a big pie. It really tasted good and didn't need the extra gravy.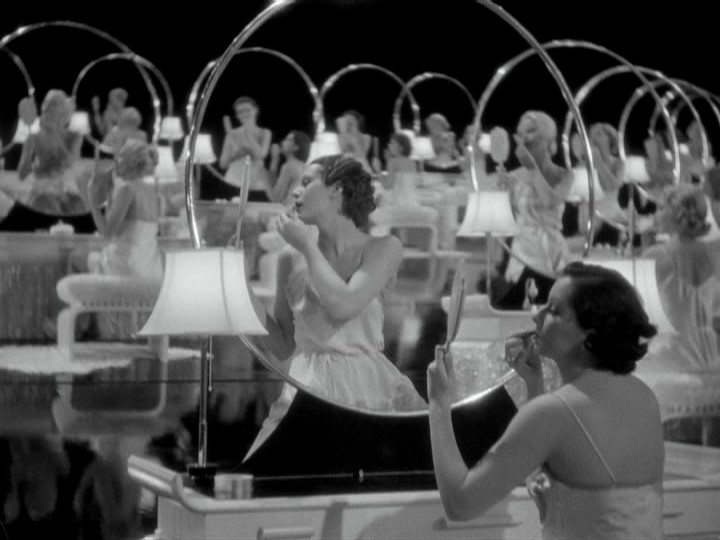 The small room almost filled up for the show. Marian Hewitt came from the North West Film Archive. She said that Mark Bodner couldn't make it. The projector worked fine and films ran smoothly. It was the Effect of Dada show.  As usual the crowd loved W.C. Fields, The Marx Brothers, Bing Crosby, Maurice Chevalier, Jeanette MacDonald, Dick Powell, Ruby and especially Busby Berkeley, all featured in the show.   Everyone had a good time and no one was injured. It was a good last show for the month and almost two weeks of showing films in Finland, Denmark, Germany, Switzerland and England.
John would turn in the rental car after dropping me at Piccadilly Station at 4:45 in the morning. We drove to the house. I set the alarm, read some Old Curiosity Shop, and went to bed.