Hamburg, Germany  April 3, 2011
It being Sunday things were relaxed in Volker and Esther's house. When I awoke no one was astir. I recalled a nearby Starbucks that should be a short walk away. There I could spend time on line posting a blog report. Since it had been such a nice day yesterday I went out without a cap or top coat leaving a note saying I would return at 10:00. I didn't have a key to get back in. I had walked a block when it started to rain. Not sure just what direction I should go I asked a passerby. He didn't speak English. He did understand "coffee." He pointed in the exact opposite direction I intuitively thought was right. I went the way he pointed. It began raining harder. I walked to a business street. That wasn't hopeful. I remembered the Starbucks as being at the edge of a park. A young guy was waiting for the light to change. He was eating the end of a loaf of bread peeking out from a paper bag. I asked him if he spoke English. I should add here, almost any German who is asked if they speak English, assuming they can, will reply "Just a little" or "Not very much." This young man replied "Sure." He didn't think there was Starbucks anywhere near but suggested an upscale area a few blocks away. I walked there. It kept raining. By the time I got to the upscale area I was really soaked. I asked a passerby for Starbucks. I was assured there was none nearby. About then I realized I was lost. It began raining even harder. I had made a note that Volker and Esther's house was on Heinrich Strasse, remembering it by associating it with Tommy Henrich former big league ballplayer 1927-1940 with the New York Yankees. A guy passing by on a bicycle directed me to Heinrich Strasse. On the corner there was a pastry shop. A bunch of people were inside buying stuff. I went in and got coffee and a donut. The donut was still warm and as good as a Krispy Kreme. The coffee was passable. The main attraction of the place were unlimited paper napkins so I could dry my sopping head.
Volker let me into the house. He told me there was no Starbucks anywhere in the area.  I wonder where the one in my mind was?  We had breakfast of bread, cheese and salami with cafe au lait. I turned down a brown egg. After breakfast we took a walk. It had stopped raining and turned into a nice day. Looming over most German cities is a TV tower. The height of the tower would be a point of pride for each municipality. The one in the former East Berlin is a doozy. The one in Hamburg, Germany's second largest city, is also a pip. It had restaurant at the top that revolved. That restaurant had gone out of business. We walked to the base of the Tower. There was a chain link fence around it, giving the whole thing a forlorn feeling. Signs were posted forbidding roller skating or skate boarding.
Across the highway from the TV tower was a large park. It was a destination place for people. Inside were several contained parks including a Japanese garden. We stopped for ice cream. Esther and I got cones and Volker got a cup. Smart man he. I was giving my cone an ambitious lick and the ice cream went flying, landing in the dirt. I don't think the guy who scooped it had mushed it properly down into the the cone. Since it was early in the season I am sure he will improve and avoid further tragedies.
The park has a really impressive children's area. Both Volker and Esther had played there as children and said it was unchanged. In the middle of it is a fiberglass mountain. It sort of resembles the Experience Music Project in Seattle, which is at the base of the Space Needle.  The park mountain  is hollow inside but I was assured no kids play inside as there is no ventilation and the stench from it being used as a public toilet is horrible. We walked back home through the business area of the neighborhood. A two block area was awash in Saturday night trash. It was a designated a "party area" and has been surrendered to loud bars and drunken revelry.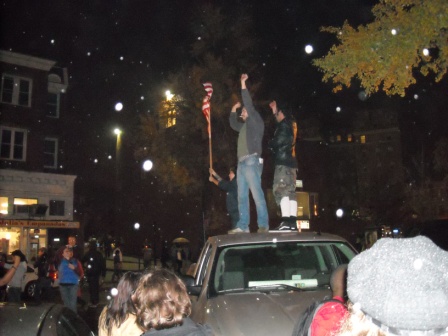 Volker and Esther subscribe to a vegetables and cheese service. Every week a box arrives with an assortment of organic vegetables and interesting cheeses. There is vegetable service in Portland but it has no cheeses.  That is a German specific wrinkle, at l least for the time being.  For dinner they tossed a bunch of vegetables into a wok and made a curry. Over rice it was great. We lingered over dinner and had to take a taxi to Metropolis for my 7:00 show of The Effect of Dada. Another good crowd showed up which looked scattered inside the big auditorium. As usual, everyone loved the show.
The 8:00 show continued the Dada and Surrealism theme with a Buster Keaton short and feature. The short was One Week. The feature was The Navigator. I was asked to introduce the show. I talked about how the surrealists loved Buster and didn't love Charlie Chaplin. I think the Surrealists appreciated in Buster Keaton's art that he always played a man interacting in a world seemingly one step removed from himself. Buster had an existential aura around him as though he was not so much taking part in reality or nature, but battling against it, sort of one man against the universe.  In One Week he builds a pre-fab house of which the disparate parts have been jumbled. The result is a crazy house. In the Navigator he is placed on a big completely abandoned and adrift ship. Both show his ability to persevere inside an insane reality.
We took the S-Bahn home.