Drugged dwarves, anarchist bombers and cocaine cartoons! AÂ  fast-paced roundup of wildly subversive animated shorts from cartoon history, many censored, banned and rare. Featuring: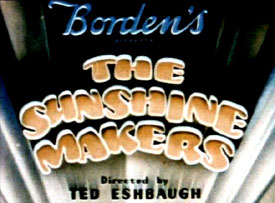 Psychotropic "Milkmen"
The Sunshine Makers (Black and White  1935)
Directed by Burt Gillett and Ted Eshbaugh for Van Beuren Studios, this film teaches us to have positive attitudes, to be happy and to drink  magical white liquid sunshine  that comes in a bottle. In a pre-Prozac world, relentlessly cheerful gnomes bottle sunshine (and, apparently, contentment) to distribute throughout the countryside, like little psychotropic milkmen. Meanwhile, goblins dressed like undertakers seem to have the misery franchise sown up — they spend most
of their day skulking around, singing about how great it is to feel rotten. Pretty soon it's attitude adjustment warfare, with the sunshine makers forcing everyone to get happy. When hippies saw the film in the late 1960s they were sure this mood elevating liquid was sunshine acid (LSD), but the end credit mentions that a company named Borden's (!) brought you this message.
A is for Anarchy
Wake Up the Gypsy In Me (Black and White, 1933)
This wacky Warner Brothers Cartoon takes the side of bomb throwing Commie anarchists against the Czar of Russia and Rasputin.
Ass kicking machine

Bimbo's Initiation (B+W, 1931)
BDSM in cartoon land. In one of the greatest cartoons produced by Max and Dave Fleischer Bimbo falls down a manhole—smack into a surreal fraternity of characters with melted candles on their heads and two-by fours behind their backs. "Wanna be a member?" they ask again and again, and each time Bimbo says no and suffers for it. Bimbo finally meets Betty Boop, who performs an erotic dance and asks him the usual question. Not surprisingly, Bimbo finally says yes.

A Pretty President?
Betty Boop For President (B+W, 1932)
Betty runs for the office of President against Mr. Nobody while parodying real
candidates. Both candidates state their platform through song and dance,
referring to political issues of the time.
The House of Representatives is portrayed by elephants and asses-just like they
are in real life!

Legalize Booze
Mickey's Whoopee Party (B+W, 1932)
Mickey and his pals throw a wild party – so wild that roast chickens and lamps
come to life and join in the chaos. The police come to put down the racket, but
end up joining in themselves.
Cop Hatin' Woodpecker
The Screwdriver (B+W, 1941)
"F*ck the Po' leece!" Woody Woody Woodpecker almost cries as he becomes
the bane of a fat, slow-witted, red-nosed motorcycle cop who quickly goes mad
trying to chase him down, eventually ending up in the "jerk (psycho) ward."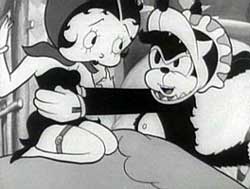 Creepy Cartoon
Dizzy Red Riding Hood (B+W, 1931)
One of THE great Betty Boop Cartoons expertly and weirdly animated by the famous Fleisher Brothers. Interspecies sex anyone?
Plus! Snow-White's revolt against royalty and cocaine
culture and Wise Flies vegetarian promo!