Ninety minutes of fabulous Lindy Hop and Jitterbug dancing along with absolutely great jazz music.  There have been periodic  revivals of Lindy Hop dancing.  One is going on  right now.  It is unbelievably  fun to do.  I will include a Lindy demonstration and lesson.

Jammin' the Blues (1944)    Considered by many the best jazz film ever made.  It features the dancers Marie Bryant and Archie Savage.  The musicians include Lester Young, Sweets Edison, Illinois Jacquet, Barney Kessel, Marlowe Morris, Jo Jones, Big Sid Catlett, and others.
I Hear Music (1946)  This is a Soundie of the great Burton Lane  Frank Loesser song.  The dancers are  Grace MacDonald and Wesley Adams.
College Dance scene from Start Cheering (1938)Â Â  Excerpt features dancer Hal Le Roy and a bunch of popular dances of the thirties including the Big Apple and the Suzie Q as well as the Lindy Hop.
Boardwalk Boogie 1941  The Will Bradley – Ray McKinley Orchestra could really Boogie.  Check out their recording of Down the Road A Piece.  The  Youtube version is shorter than the film print  I will show.
Jerry Wald Orchestra from Swing the Western Way (1947)  Excerpt.  Jerry Wald was an excellent clarinet player.  Good dancing too and great examples of 1940's Pendleton Shirts.
Will Osborne Orchestra 1942Â Â  The song is called Fantasia and features an extremely limber dancer.
Boogie Upstairs 1943   Hard to say who these guys are.  The piano player looks like Harry The Hipster Gibson.
The Concertina Man 1942Â  Shenanigans and dancing in a park setting with a cop and a squeezebox player.
Georgie Porgie 1941   This and other racy  Soundies were marketed after the War in packages called Music With Spice.
Jazz Dance (1954) This amazing film is of a night at a New York dance hall in 1954.  It shows what a ball it was to Lindy Hop. Dancers Al Minns and Leon James are featured.  The musicians are Jimmy McPartland, Willie "The  Lion" Smith, Jimmie Archey, George Wettling, and Pee Wee Russel.  Richard Leacock was a camera man on this.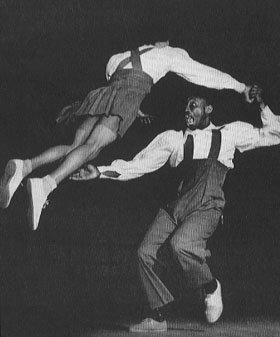 Unbelievable Lindy Hop footage from  Hellzapoppin' (1941) Whitey's Lindy Hoppers featuring FrankieManning. Also Slim Gaillard
Finale of the feature  Stormy Weather (1943) Amazing jazz and dancing with the Nicholas Brothers, Katherine Dunham Dancers,  Bill Robinson, Cab Calloway, Lena Horne.
It would nice if there was a Lindy Hop group in town to maybe have a dance after the show.