April 12Â  Manchester, England
I like a morning routine. Here, it is to take the walk, including through two parks, to the Starbucks on Oxford Road and drink coffee and read the New York Times and write. This morning I also had a mission. That was to go to the North West Film Archive and see if I could borrow a projector speaker and a short lens for the show on Thursday at the Lass O'Gowrie pub. Things started just fine when I found I could add five pounds to my Starbucks card and use it.   I wondered what the exchange rate would be. That would allow me use of the wifi.  I was shocked to see that when using the card here I got a fifty cent break on the price of a cup of coffee. They also don't even bother to charge for refills. Probably because only because an American would ask for one and very few of them come in. I was due at the NWFA at 9:30 which didn't allow much delving into the news. I did get a report posted on my blog. That got me just a couple of days behind.
A young couple with a blond two year old boy lingered over coffee. Every few minutes the little boy would dash off and one or the other parent would say "Reese!" and he would return. I was surprised he didn't show more resistance. Eventually they finished their coffees and prepared to leave. They strapped him into a stroller and only then did he scream. He yelled all the way out of the store.
On my way to NWFA the sun was shining but the wind was knocking most of the warmth away. I had a hand drawn map provided by Marian Hewitt. That took me right to it on Chorlton Street just off Whitworth. Inside the front door was a complete 35mm projector. I asked for Marian and she called to me from another room. She came out and introduced me to Mark Bodner. He was a cheerful looking man with a round head containing no hair at all. I was then introduced to a woman named Jeanette. She was there to be given a tour of the place. I was told to tag along. Mark then took us on a fascinating trip. He started by giving us each four inch long examples of 8mm, Super 8mm, 9.5mm, 16mm and 35mm film, all stapled together. He explained they were all the formats they archived. He also said they try to limit the archive to film from the region.
The first stop was to a hallway that had been made into a work station where two people were seated examining 16mm films on flat bed systems with no viewers. The films had to be hand inspected and repaired if needed before viewing. In a nearby room were two complete Steenbeck flatbed editors. Mark said he had modified the Steenbecks to become telecine transfer machines. Near to them were a whole bunch of video decks and monitors. Mark had come to work twenty three years earlier and everything I was looking at  had been assembled by him. He then showed us examples of different types of films on different monitors they had transferred including black and white16mm from the early 30s, black and white 9.5 from the forties and Kodachrome 16mm from the sixties. He showed us both standard DVD and High Definition of the same film split down the middle on one screen for a side by side comparison. He said there was some film that couldn't be transferred to High Definition because it would "be too ruthless and expose every flaw."
So far Jeanette hadn't asked a single question. I asked her what her interest was. She said she had just been hired by the local government and had been assigned to see what various publicly funded entities were doing. We then went up a flight to the film storage rooms. The coldest room was for color film. It also had a specific humidity that was different from the black and white room. The warmest room, still cold, was a staging room for bringing films out of the colder rooms in a gentle and graduated manner, to avoid having them suffer from "thermal shock." He said to take a film from the coldest storage to room temperature was a three week process. All films were stored horizontally. We discussed the basic hardiness of film as opposed to survival rate of DVD and other ways to store the data from them. Stored film can be good for at least a hundred years. A DVD has an average life span of twenty. He posed the question "How can an archive commit itself to hard drive storage when there is such high failure rate?" That is a good question.
After the tour we went to Marian's office where the four of us sat down to coffee, tea, cookies and Kit Kat Bars. After that Mark took me on the search for a lens and speaker. The speaker was no problem. He took one off of a donated projector. The lens was problematical. He couldn't find a single inch and a half lens or any Filmovara lens attachments. He did loan me a zoom lens, that I thought was identical to the one John already had, and an odd lens he said would create big image but would have to be taped to the base lens. He said they'd paid several hundred bucks for that lens and never found an application for it.
I left with my booty and walked to the house. I found John in the kitchen at table working on paperwork. I left the stuff there and left again to take a better look at the city. The sun was still shining and the cold wind was still blowing. I took a leisurely stroll of a couple of hours that me took past things I remembered and things I don't think I had ever seen. That was no surprise, as most of what I remembered from my three previous trips to Manchester, all three during the month of October, were of darkness and rain. In daylight it didn't look bad. At Whitworth Street I walked the opposite direction from NWFA and followed the elevated train track. It is not an erector set sort of elevated track such as in Chicago.
It is supported by massive stone arches. Inside the arches are businesses. I can't imagine what it would be like to have one of those businesses with trains rattling right overhead night and day.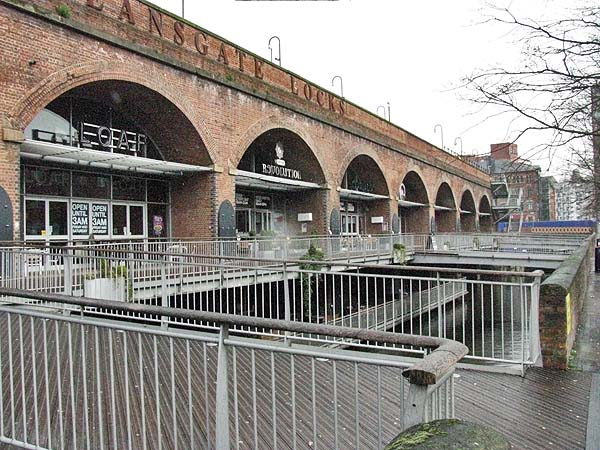 I walked as far East as Whitworth would take me. I found a huge structure I assumed was a train station that was the municipal car park. There I turned South. I found a huge round building made of white stone that was the main library. It was closed for repairs with a chain link fence all around it. I eventually came to the upscale shopping area. I went into a Marks and Spenser grocery store looking for peanuts in the shell. I settled for shelled peanuts in a bag.
I walked through crummier shopping areas and eventually came back to upper Whitworth Street. I passed that and turned toward John's house on a less traveled side street. It was home to pubs and Chinese restaurants. I passed the Lass O'Gowrie and noticed the poster I had made was not among those in the window. I came to Oxford Road and cut through the first park. Walking in front of me were three teenagers. Two of them were holding hands. Both were dressed in extremely colorful outfits. The boy had a multicolored jacket and striped pants that made his legs look long and skinny. His hair stuck up several inches in the air adding height. The effect was added to by very tall platform shoes. They looked like five inch tall black bricks under his feet. The girl wore the same shoes with not as much hair but also tight pants and a jacket that was covered with little tufts of hair. The girl walking with them had no platform shoes and appeared half a foot shorter at least. They walked at good clip with people they approached obviously taking notice.
It was past six when I reached the the house. It didn't appear that John had moved in the time I was gone. He was in the same pose at the kitchen table with papers all around him. He told me he had meat pies in the oven that would be ready in an hour. He gave me directions to a big grocery store. The route was via a pedestrian overpass crossing the freeway. It was then along a big wild parkland. The ASDA grocery was part of a group of other large stores. It surprised me. It was like an American suburban shopping center in the middle of big wasteland of open ground. I bought Newcastle Brown Ale.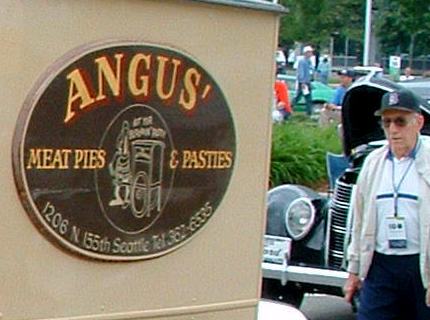 When I was first in college in Seattle a British restaurant called the Unicorn had opened around the corner from where I lived. A British man named Angus ran it.  I had dinner there within a week of it opening. It offered pasties peas and chips, steak and kidney pie, shepherds pie, and other traditional British food. I ate there regularly for several years. It also introduced me to British beer. That was before the craft beer movement when all beer in America was mass produced lager with no character. You could find Angus' pasties in area grocery stores.  When I first came to England in the 90's I looked for that same food and found it hard to find.
Dinner was traditional British pub food. Along with the meat pies was boiled potatoes and carrots. There was also gravy. All perfect with Newcastle Brown Ale. Yumm! After dinner I got another report posted on my blog. I was then caught up to date. So concluded an open day with no film gig. The next day would be the Green Room show. After that a day show at Bolton University and the evening show at Lass O' Gowrie. The next morning, flying home.